Ethanol-Free Gasoline in Oklahoma
2015 Area Car Shows
Tulsa Cruise Night
Every Tuesday
Beginning March 17, 2015 5pm-Sunset
91st & Memorial Tulsa, OK
McAlister's and CiCi's Pizza
________________________________________________
Come out and see us at our Friday Night Cruise-In featuring the Stillwater Antique & Classic Car Club! The event starts at 5:00 here at
Ron Shirley Buick GMC! See you there!
________________________________________________________
Bike Night is a family-friendly event set in Downtown Stillwater, OK. Come out on the first Tuesday of every month (April–August) and enjoy live music, food and drink specials, giveaways, and more!
Email: downtown@stillwater.org
Website: http://www.downtownstw.com/bike-night
___________________________________________________________
Blacktop Motorsports Cruise Night
Second Saturday every month 7pm
6th Street and Perkins Road
Stillwater, Oklahoma
__________________________________________
Friday Nite Cruise-In Last Friday of Every Month
Burger King, 2908 N 14th Street, Ponca City , OK
Starting time 6:30pm;
Raffle every month, bring something for the Raffle, receive 5 Raffle Tickets; 50/50 Raffle every month.
Free Medium Drink and get 10% off any purchase per Vehicle, Classic, Custom & Vintage Cars, Trucks and Motorcycles. Parking will be in lot South of the 14th Street Burger King Entrance.
_______________________________________________________
Coffee & Cars OKC
First Saturday of every month from 8AM -11AM.
Northpark Mall, 12100 N. May, Oklahoma City, OK 73120
Please join us the first Saturday of every month at Coffee & Cars OKC! We are car enthusiast of all ages, who informally gather to enjoy our passion of motor vehicles. Everyone is welcome, and there are no fees.
*Please Park in the South & S.West & West Parking Lots
- leaving behind the mall (East lot) open for the Academy of Hair Design
*Spectators please park in the North Parking Lot near 122nd Street.
Website: http://www.coffeeandcarsokc.com/
____________________________________________________
"Cruise in for Coffee " Third Saturday each month, sponsored by the City of Midwest City. A monthly meet & greet from a April -October; It is a free event! 8am-11am; 7305 SE 29th Street, (parking lot between Chick-Fil-A and Old Chicago) -
__________________________________________________________
Tri-City Cruisers Cruise In
First Saturday of Each Month 6pm-9pm
Sonic/Arby's in Tri-City; Newcastle, OK
Year Round with Weather Permitting
Phone: 405-381-9449
______________________________________________________________

Patriot Cruise Nights, Riverwalk Crossing, Jenks, OK. We are raising awareness and money for the Folds of Honor Foundation. Folds of Honor helps surviving widows and/or their children with higher education expenses. KJSR/Eagle 103.3 Classic Rock will be the radio station promoting this event. This event is free. We will have live classic rock music, concerts on the amphitheater, driver discounts with all the merchants and restaurants and ice cold Budweiser. We are also offering several Tulsa car clubs to have a sponsorship night free of charge. We would love to have you guys and help promote your club in the process. Call me for any questions. Casey W. Criss 918-402-6232
__________________________________________________________________
Every Saturday night 5pm-8pm
Ron's Hamburger Cruise night
233 Adams Road, Sand Springs, OK
Free drink with meal if you drive a hot rod.
______________________________________________________________
Take a Child to a Car Show this season!
2015 Area Car Shows
2014 Perkins Car Show Dash Plaque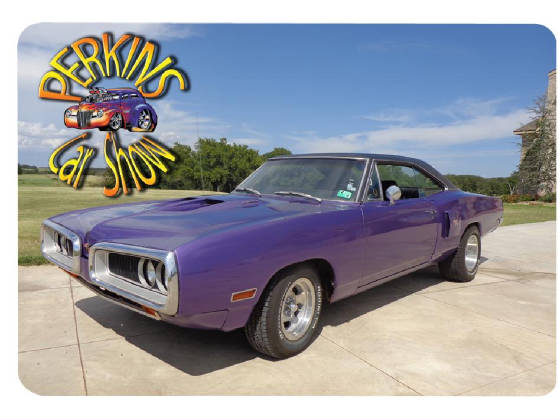 Sponsor CLS Plasticard Bixby and Perkins
August 2015
Aug 15 Helping Hands Car Show 8am-4pm
Hwy 62, The Park, Prague, OK
Registration: 8am-11:30am
Entry Fee: $15 for pre registered $20 day of show
Mailing: Helping Hands, 101879 S. Hwy 99, Prague, OK 74864
10th Annual Helping Hands is a benefit for children and seniors at Christmas. This year features 51 classes 3 trophies per class. Plus numerous sponsor awards, club participation, longest distance and best of show. Our DJ's, Mr Rockin Randall and Mr. Radio Rich will be playing the greatest hits from days gone by. Pre registered entries can choose your favorite song and watch the real 45 play. Dash plaques for first 150. Bring a new toy for chance to win 32in TV. Lots of shade trees. Fun for everyone. Good food!
Email: carshowlady@gmail.com Phone: 405 567 4602 or 405 566 9047
Aug 15 Broken Arrow Elks Lodge 2873 Festival of Cars 8am-2pm
101st and Oneta Road, Broken Arrow, OK. South of Kum and Go on hwy 51
Registration: 7am-12pm; Entry Fee: $15; First 50 entries get a free t-shirt
Trophies around 1:30pm
Mailing: 27119 East 82nd Street South, Broken Arrow, OK 74014
Cars, Trucks and bikes. Grass parking, air conditioned hall, food, refreshments
and beer concessions. Independent Judges. 26 trophy classes
Email: eltzroth20@gmail.com ; Phone: 918-693-0259
Aug 15 Owasso FFA Alumni Car Show 10am-2pm
Fifth annual car show held at Owasso High School, Owasso, OK
Registration: 8am-10am; Entry Fee: $25 Awards: 1:30pm
Save by Pre-registration until Aug 1 for $20
Mail: Owasso FFA Alumni, PO Box 932, Owasso, OK 74055
Over 50 Classes for cars, trucks and motorcycles
More than $1,000 in Giveaways, Live DJ, Free Kids Zone,
Inflatables, Vendors of all kinds, T-shirts
Phone: Doug @ 918.633.5274 or Craig @ 918.606.3595
Email: OwassoFFAAlumni@hotmail.com
Website: http://www.owassookffaalumni.com
Aug 22 Shidler's 12th Annual One Day Car Show
Coussens Park, N. Cosden Ave, SH18, Shidler, OK
Entry Fee: $20 Rain or Shine 8am-4pm
Shidler Chamber, PO Box 281, Shidler, OK 74652
Awards Presentation: 3:30pm
Door Prizes, Concessions by VFD of Shidler
Vendor Space Available, (Automotive related)
Email: chamber@shidleroklahoma.comn
Phone: JR 918 793 4961
Aug 22 The Village Lion's Club Car and Truck Show
Duffner Park, 10801 Victoria Place, Oklahoma City, OK 73120
(South of Hefner between May and Sunnymead)
Registration: 9am-11:30am Judging: 12pm-1pm; Awards: 2pm
Entry Fee: $20
If you love showing your classic car or are just a classic car enthusiast,
head to the Village in Oklahoma City for the Lion's Club Car Show.
Over 28 car categories to be judged, there is sure to be something for
every car fan to enjoy. Browse the vehicles, chat with the owners and
snap some photos of your favorites. Plenty of prizes will be awarded
including a participant cash drawing, goody bags and a 50/50 prize.
Phone: 405-478-4786 405-209-7326
Website: http://www.e-clubhouse.org/sites/thevillageok/page-8.php
Aug 22 First Annual OKC Invitational Auto Show 9am-7pm
Cox Convention Center, Downtown, OKC, OK
Registration: None-By Invitation Only
Admission Fee: Paid at the door - TBD
Mailing: OMC, PO Box 244, Mustang, OK 73089
The Oklahoma Mustang Club is hosting its first ever indoor
invitational car show at the Cox Convention Center in conjunction
with the One Healthy Bod Fitness Expo. This car show will display only
the best cars in the Oklahoma City area! There will be 7 different classes
of cars and these cars are by Invitation Only! Classes of cars are: CORVETTE,
RESTORED, CUSTOM, EXOTIC, MUSCLE, MUSTANG and ORIGINAL. If you were
fortunate enough to receive an invitation, YOU have one of the best cars in
the area!! Registration is limited for this very exclusive event! Class winners
will be determined by judges and there will also be some popular vote winners.
There will be new Corvettes, courtesy of Knippelmier Chevrolet and new Mustangs
courtesy of Bob Moore Ford on display for you to check out!
So, come out to the Cox Convention Center, August 22, 9 am - 7 pm and enjoy
million's of $$ of the best cars in the area in the air conditioned comfort of the
Cox Convention Center! Email: showchair@okmustangclub.com
Website: http://www.okmustangclub.com Phone: 405.413.9501
Aug 29 Good Vibrations Car and Truck Show
Blinn Park, Tonkawa, OK
Registration: 8:30am-10:30am
Entry Fee: $20 Awards Presentation: 2pm.
Best of Show • Top Ten Vehicles (voted by participants)
Best Paint • Best Interior • Best Engine
Vendor, 50/50 Pot, Door Prizes, Cash Drawings
Poker Chip Walk: 11am Blinn Park has a concession stand,
walking track, playground, splash-pad and basketball courts.
Mail: Tonkawa Chamber, 102 E Grand Ave, Tonkawa, OK 74653
Phone: 580-628-2220
Aug 29 8th Annual Salina Chamber of Commerce Car & Bike Show on the Lake
Salina American Legion, Salina, OK 8am-3pm
Registration: 7am-11am Entry Fee: $20 Awards: 2pm
Swap Meet Booth $20; Concession Stand, Vendors, 50/50 Pot,
Door Prizes & Live Entertainment
Car Show Top 5 People's Choice $100 Cash Prize
Trophies and Awards at 2PM
Burnout Contest (new rules: crowd picks the Burnout King by applause)
$500 Cash Prize, Trophy and New Set of Rear Tires to the Winner
Adults & Kids Pin Up/ Greaser Contest
1st , 2nd & 3rd Place Cash Prizes
More Info: Tena 918-697-4818 Email: tlp74365@yahoo.com
Website: http://salinachamber.publishpath.com/car-show-and-burnout
Aug 29 Run Forrest Run 2015 Hot Rod and Custom Show 10am-5pm
Eagles Lodge #4262, Hwy 65 and CC Exit – Ozark, MO
Registration: 8am; Entry Fee: $20; $15 pre-registration
Mail: 6994 N 23 Street Ozark MO 65721
Amazing benefit Car Show. Show and Shine all day, pin up girl contest,
Silent Auction, Wacky Award presentation followed by dinner and dance
Email: michelle.ferrell@live.com Phone: 417 830 5764
September 2015
Sept 6 Pontiac Show-me Regionals 8am-3:30pm
Hwy 76, Dick Clarks, Branson, Mo.
Registration: 8am to 12 pm; Entry Fee: $20
Mailing: Pontiac Regionals, 3459 S Parkhill Ave., Springfield, Mo 65807
Pontiac and GMC trucks only as car show entries
Email: flh8855@aol.com
Website: Facebook.com/GO-POCI
Phone: 417-894-2327
Sept 12 Oklahoma Mustang Club Annual Stampede Car Show
928 N Mustang Road, Mustang, OK; 8am - 3pm
Registration: 8am - 10am; Entry Fee: $30; Awards: 3pm
Mailing Address: OMC, PO Box 244, Mustang, OK 73064
In conjunction with this year's Stampede car show, we will also be
hosting the 1st Annual M6A Car show (Mustang 6 Association). The
OMC Annual Stampede Car Show will be held at the First Baptist
Church of Mustang at 928 N. Mustang Road in Mustang. Save $5 by
registering early (prior to September 6th). We'll have a DJ for music,
door prizes, and dash plaques along with a 50/50 pot. We have over
35 Open classes and that many Mustang classes too! Awards will be
presented to 1st - 3rd place. We will also have 4 Best of Show in both
the Open and Mustang classes selected by the city dignitaries along
with the Luke Lucas Award of Excellence for the best Mustang.
Email: showchair@okmustangclub.com
Website: http://www.okmustangclub.com
Phone: 405.413.9501
Sept 12 Classic Cars of Ponca City Annual Show and Shine
Hutchins Memorial Auditorium, Fifth and Overbrook, Ponca City, OK
Registration: 8am-12pm; Entry Fee: $15; Time: 8am-3pm
Goody Bags, Dash Plaques to first 100 entries, Door Prizes,
Cash Prizes, Food Vendors; Awards for Top 15, Best Hot Rod,
Best Kustom, Best Unfinished, Best Paint, Best Original,
Best Muscle Car, Best Interior, Best Truck, Best Convertible,
Best Engine and Best of Show.
Phone: Doug Long 580 762 5572 or Guy Anderson 580 765 8514
Email: cars@poncacitycarclub.com
Website: Classic Cars of Ponca City
Sept 12 City of Springs Car Show 11am-2:30pm
Downtown, Sulphur, Oklahoma
Registration: 9am Saturday; Entry Fee: $20
Mail: P.O. Box 945, Sulphur, OK 73086
The Sulphur Rotary Club is hosting its 16th annual "City of Springs Car and Show" on Sept. 12, 2015 in beautiful downtown Sulphur. The show is located just across the street from the Chickasaw National Recreation Area and the Artesian Hotel, Spa and Casino! This year's show is sure to be one of the best in the state with 35 classes of autos featuring all the classics from every decade, corvette in C classes, Camaro, Firebird, Rat Rod, Modified, Custom, and Original, plus many, many more. Trophies for 1st and 2nd will be given in each class along with custom built trophies for special awards including Mayors, Fire Chief, Police Chief Choices along with the Rotary Club Best of Show! Door prizes every half hour, weekend giveaways to area lake cabins and the Artesian Hotel, games, 50/50, good food, music from all eras and each entry will receive a ticket for the grand prize drawing at the end of the show of $250, $500, AND $1,000.00 CASH! First 100 will receive free t-shirt!! PRE REGERSTRATION CRUISE ON FRIDAY NIGHT BEFORE THE SHOW!
Phone: Jeff Flowers at 580-622-6387
Email: flowers@brightok.net


Sept 13 Freddy's Frozen Custard Fall Open Car, Truck & Bike Show
2403 W. Main St. Norman, OK; Sunday 1pm-6pm
Registration: 1pm-2:30pm; Entry Fee: $20
Open Car, Truck & Bike Show Benefiting Norman Youth Soccer
Association Fury 06 Soccer Team. Come Help The NYSA Fury 06
Soccer Team Raise Money for Tournament & Travel Fees For This Fall!!
30+ Classes - Best of Show - Fury 06 Pick - 50/50 Pot -
Great Food from Freddy's Frozen Custard and Steakburgers
Email: jeffdgoodman@hotmail.com
Sept 19 Flashbacks Car Show 8am-3pm
Mineral Wells Park, 901 South Division, Guthrie, OK
Registration: 8am-11am; Entry Fee: $20
Pre-Registration: $15 by September 15th
Mailing Address: Guthrie Flashbacks P.O. Box 473 Guthrie, OK 73044
Free Donuts and Coffee, $800.00 in cash Give Away's. 50/50 Pot,
contingency prizes. Website has a link for the event flyer and
registration form. Email: gmsnowball@aol.com
Website: http://gmsnowball.tripod.com
Phone: Dennis Doughty 405-341-8068 or Penny Hurley 405-282-7343
Sept 19 Keystone Volunteer Fire Department Car Show 8am-4pm
Keystone State Park, Red Carpet Area, Mannford, OK
Entry Fee: $20; Pre-entry: $15 until Sept 12.
Little Tykes Entry Fee: $5
Mail: Keystone Volunteer Fire Department,
25505 West 41st Street, Sand Springs, OK 74063
Over ten classes for entries, Several Special Awards-
Chiefs Choice, Parks Choice, Ladies Choice
$50 Cash Award for largest club participation;
$25 Long Distance Award; Many Door Prizes,
Information: George 918-605-4794
Jan 918-855-1042; Chris 918-899-4039
Sept 19 Putnam City Baptist Church Car Show 9am-2:30pm
11401 North Rockwell, Oklahoma City, Oklahoma 73162
Registration: 9am-11am Entry Fee: $25
(Pre-registration $20 before September 16, 2015)
Mailing: Putnam City Baptist Church, 11401 North Rockwell, OKC, Ok 73162
Entry fee includes door prize drawings and FREE lunch.
23 classes, 1st and 2nd place trophies, 50-50 drawing, food and refreshments.
Email: gcouch4242@cox.net
Phone: (405)550-2442
Putnam City Baptist Church Car Show Entry
Sept 19 GCCM's 36th Annual All Ford Powered Car Show
Oklahoma Aquarium – Jenks, OK 8am-4pm
Registration: 8am; Entry Fee: $25/$30
Mailing: P.O. Box 471361 Tulsa, OK 74147
Come join us for our 36th Annual All Ford Powered Round Up. It is an opportunity for members and non-members alike to show off our Mustangs and other Fords. We include a Special Interest class for the non-Mustang Ford powered vehicles. Part of the proceeds will benefit our charity of choice,
The Little Lighthouse of Tulsa, Oklahoma. We are an organization dedicated to the preservation and enjoyment of the Mustang Automobile and the fellowship that goes hand in hand.
Email: rogerbymun@yahoo.com Phone: 918.691.1508
Website: http://greencountryclassicmustangs.weebly.com/annual-round-up.html
Sept 19 Frontier Days Car & Truck Show 9am-
Downtown, Tecumseh, Oklahoma
Entry Fee: $20
Mail: FRONTIER DAYS, PO BOX 38, TECUMSEH OK 74873
Over fifteen classes for cars and trucks.
Vendors, Food, Carnival, Wine Tasting, Arts and Craft Show.
Kids Games, Live Music, Street Dance, Rodeo, Sponsored by
Shawnee Paint. Annual event which this year is scheduled to
have an Indian Taco Dinner beginning at 5:00 pm Thursday night
followed by Gospel singing; vendors, craft show, wine tasting and
music Friday evening beginning at 5 pm; and Saturday the day will
start bright and early with the Barney Shirey 5K run. Then we will
continue all the fun from 9 am to 9 pm with something for everyone
including a car show, rodeo, parade, music, street dance, carnival,
rendezvous, plenty of vendors, a craft show, wine tasting, and free
games for the kids!!! Invite all your friends and come join us!!! Be
sure to share this event with your family and friends.
Website: http://www.shawneepaint.com
Phone: 405 275 1160
Email: Rick Stiles rickdstiles@yahoo.com
Sept 20 Twelfth Annual South Tulsa Baptist Church Car Show
10310 S Sheridan, Tulsa, OK 1-6 pm
Entry Fee: FREE ; No judging! Free burgers!
Registration: Show up any time after 1pm
Jim Grisham, 8741 S 68th E Ave Tulsa OK 74133
Email: j_grisham@sbcglobal.net or Call 918-808-8031
Website: http://www.southtulsabaptist.org
September 26, 2015 Perkins Car Show
1003 East Hwy 33, Perkins-Tryon High School Perkins, OK
Registration: 8am to 11am Awards at 1pm
Pre-registration: $15 until Sept 20; Day of show $20
Last year's 50/50 Pot $2400!!!
Club Trophy and $100 for most entries!
$50, $25 for pre-registration drawing!
Over 40 Classes of Cars, Trucks, Motorcycles
Three Trophies per class plus 15 Sponsor's Choice Trophies and Best of Show! Awards Ceremony & 50/50 Drawing inside HS Commons Area; Inside air-conditioned concessions & restrooms;
Oldies Music by Dale Turner.
Information: Shelby Lauener at 405 612 7115: slauener@sbcglobal.net
John Dragoo at 405 547 5657 kajon@suddenlink.net
click 2015 Perkins Car Show Flyer
Sept 26 Route 66 Cruisers Annual 8th Car Show 7am-3pm
1450 E. Blue Starr Drive, Claremore Lake, Claremore, OK
Registration: 7am-11am; Entry Fee: $20
Mailing: 1011 N. Faulkner Drive, Claremore, OK
September 25th- Cruise-In 4pm at Ne-Mar Center; At 4:00 the
music kicks off at NeMar Center (located on West Will Rogers),
then a Cruise at 6:00 onto Historic Route 66 to Totem Pole Park in
Foyil. Free Hamburgers & Hot dogs courtesy of the Akdar Shrine!
More information soon as we add activities to this event...
We will also have a registration table setup for our Car Show!
Car Show will be held at Claremore Lake; Three trophies will be given
per class with over 40 classes! Drawings will be held throughout the
day for cash & giveaways prizes totaling more than $1,000. Awards
will be given out at 3:00 p.m. Claremore Lake is beautiful and there
are plenty of shade trees, picnic tables, and a playground for the kiddoes. Silent Auction, Custom built trophies awarded for Best Ford, GM, Mopar, Rat Rod, Best Paint, & Best of Show. Gas Card awarded for Distance. Music! Pinup Contest with trophies & sashes for Top3! Food, Arts & Crafts! Directions to Claremore Lake (1450 E. Blue Starr Dr): From downtown Claremore, go north on Lynn Riggs Blvd. (Hwy. 66) to Blue Starr Dr. and turn east 2 miles. Watch for signs.
Pre-register: until Sept.15, 2015 for $15 and be entered into a $50 drawing! Proceeds benefit the Sponsored Children of the Akdar Shrine
Email: sharonacaldwell@yahoo.com Phone: 9183424592
Website: http://www.route66cruisersok.org
Sept 26 Care 2 Cure Car, Truck & Motorcycle Show 10am-6pm
GREAT PLAINS EXPO, 920 Southwest Sheridan Road, Lawton, OK
Registration: 8am- Entry Fee: $20; Free Admission for Public
Mail: Care 2 Cure, 7110 W Gore Blvd, Lawton OK. 73505
All proceeds benefit Huntington's Disease;
Cash Awards; Top Car $300, Top Truck $300, $200 Best Interior,
$200 Best Paint Plus Class Trophies
Raffle, DJ, Concessions, Vendors, Photographer
Email: sublow2@yahoo.com or patkathyt@gmail.com
Website: https://www.facebook.com/Care2CureCarShow
Phone: 808 497 8903 or 580 351 7520
October 2015
Oct 3 12th Annual Mounds Car Show 8am-3pm
Downtown, Hwy 75A, Mounds, OK
Registration: 8am-10am; Entry Fee: $20
Pre-registration until Sept 27: $15; Awards Ceremony: 2:30pm
Bring two or more non-perishable food items and receive $3 off registration.
Open to all Cars, Trucks and Motorcycles
Mail: Mounds Annual Car Show, PO Box 258, Mounds, OK 74047
Over 50 Trophy Classes, Top Three in each class, 14 Special Awards
Cash & Gift Drawings, 50/50 Pot;
Proceeds benefit Mounds Community Angel Tree and Food Bank
Phone: Myra Burke 918 346 5867
Email: checufe@yahoo.com or stacobrian@aol.com
Oct 3 Heartland Heritage Center Car Show 3rd Annual Fall Festival Art Show and Sale
Checotah Sports Complex- Business 69, Checotah, OK; Times: 9am-4pm
Registration: 8am-12noon; Entry Fee: $20; Awards: 3pm
Trophy and cash Awards – UP TO $1,500.00 IN CASH PRIZES!
Trophies Presented for: Top Cars & Trucks, Top Motorcycles, Special Awards
50/50 Pot, Food & Craft vendors – Music - Art Show and Sale
Website: http://checotah.com/events/details/heartland-heritage-center-car-show-66
Phone: Frankie @ 918 916-9015; Email: themina@live.com
Oct 3 Cops & Rodders Car Show 8am-4pm
611 SW Adams Blvd. Bartlesville, Ok.
Registration: 8am-11am Entry Fee: $15
Pre-registration: $10 (see website)
Mailing: Cops & Rodders, 611 SW Adams Blvd. Bartlesville, Ok. 74003
Benefit fundraiser for families in need in Washington County during
Thanksgiving and Christmas (annual events hosted by Washington County Sheriff's Office)
Email: sheriff@countycourthouse.org Phone: 918-332-4000
Oct 3 Walters Car Cruz 8am-4pm
Broadway Street, Walters, Oklahoma
Registration: 8am-11am; Entry Fee: $20 Awards: 3pm
Mail: Walters Car Cruz, 116 N. Broadway, Walters, Oklahoma
$800.00 for Best of Show and Trophy, 1st and 2nd Place Trophy
for each class, Burnout, Cash and Trophy, Car Cruz, Contests for all ages
for cash and trophy, Bead Toss for cash, purchase chances to win a
48" color TV or Shur Shot Guns Gift Certificate, live music and inflatables and rock wall;
Email: walterscarcruz@gmail.com
Website: "Walters Car Cruz"
Phone: 580-695-1350
Oct 10 Gattitown Pizza's COOL AUTUMN NIGHTS 3pm-9pm
5833 NW Expressway, Oklahoma City, OK Awards: 8pm
Registration: 3pm - 5pm; Entry Fee: $20 pre-registered
This will be our third year at this location. It's a GREAT place to
have a car show. Lots of parking, food great cars and even better
folks! We have lots of trophies and classes for this show!!
Trophies to 1st, 2nd and 3rd along with a LOT of special awards
including Sponsor's Choice Best of Show and Coolest Car! With
more than 50 classes, we have a class that will fit EVERYONE'S
vehicle! Check out the registration link or form below for all the classes.
Vehicle Types: Open to all classes. See the registration form for more information. Gattitown Pizza, 5833 NW Expressway, Oklahoma City, OK 73132
Email: showchair@okmustangclub.com or Phone: (405)413-9501
Website:
http://www.okmustangclub.com/event_calendar/omc-car-show-3/
Oct 10 Cordell Pumpkin Festival and Car Show 10am-3pm
Lee Park, 504 E 2nd, Cordell, OK
Registration: 7:30am-10am
Entry Fee: Pre-entry=$20; Day of Show=$25
Mail: Cordell Car Show, 114 N Market, Cordell, OK 73632
Cordell Pumpkin Festival and Car Show
at Lee Park in Cordell, OK! $500 Best in Show $100 each
for best interior, best engine, best paint, and farthest away!
Dash plaques and goody bags for first 100 entrants and
INDEPENDENT JUDGING. LIVE BAND Roy Lee Scott,
The Flying Cowboy will be performing from 10-3. Held at
beautiful Lee Park on HWY 183 in the middle of Cordell and
in conjunction with the famous Cordell Pumpkin Festival there
will be over 75 vendors with food and fun activities for all ages.
Huge shade trees and pavilion provide excellent shade.
For more information please send emails to mbrunker@yahoo.com
or visit our facebook page at www.facebook.com/CordellChamber
or call 580 832 3538.
Oct 10 Bristow Route 66 Car, Truck, Bike & Tractor Show
Route 66, Main Street, Bristow, OK 8am-4pm
Entry Fee: $25; Pre-registration: $20 until Oct 1
Registration: 8am-11am
Mail: Bristow Chamber, PO Box 127, Bristow, OK 74010
The annual Bristow Route 66 Car, Truck, Bike & Tractor Show will
feature a variety of vintage rides, muscle cars and tricked-out
American motorcycles along the famed Mother Road. Make your
way to Bristow on Saturday for this exciting car show.
Nostalgic 1950s music will be played all day, and '50s costumes
are always recommended and encouraged. Prizes for the best
dressed and best decorated vendor will be awarded. This must-see
show, with entries expected to top 300, will feature a 50/50 pot,
live entertainment, tricycle races, a swap meet and trophies for
the winners. Food and craft vendors will also be available.
Website: http://bristowchamber.com/about-us/route-66-bristow-car-show/
Phone: 918-367-5151 Fax: 918-367-5161
Oct 10 Stillwater Car & Bike Show Cruise In 10am-4pm
Main Street Downtown, Stillwater, OK Awards: 2:30pm
Registration: 8am-10am; Entry Fee: ??
50/50 winner announced and presentation to the National MS Society
Ticket Stop winners announced. The show starts off with the Car & Bike Show Cruise In (8th and Main) on Friday, Oct. 9th starting at 6 p.m. This event is sponsored by Downtown Stillwater Bike Night and will include live music, food trucks, and over $1500 in giveaways! The Car & Bike Show commences on the following day, Saturday, Oct. 10th from 10 a.m. to 4 p.m. But that's not all! We also have a 50/50 drawing (with 50% of the proceeds benefiting the National MS Society) and a chance to win over $2000 in prizes after collecting tickets at the Ticket Stops!
Phone: Amy Jo Frazier at (405) 742-8359
Email: afrazier@stillwater.org Website: http://www.downtownstw.com/
Facebook: Downtown Stillwater Car and Bike Show
October 15, 16 & 17 Chickasha Swap Meet
47th Annual Largest Auto Swap Meet in Oklahoma
712 E Choctaw Avenue, Chickasha, OK
Registration: 7:30am; Admission is FREE with $5 paid parking;
Benefits the Resurrection House of Chickasha and a local youth group.
Mail: Chickasha Swap Meet, PO Box 271 Chickasha Ok 73018
Chickasha Swap Meet - 47th Annual Largest Auto Swap Meet in Oklahoma.
Located at 712 E Choctaw Avenue Chickasha, OK 73018; this meet is held on
34 acres. All outside vendor spaces are 10x30. All inside vendor spaces are
12x12 (approx) $50 each. Our usual attendance for our Fall Swap Meet is
20,000 per day. (MOL) Anything auto related can be found for all makes and
models. Many parts and accessories for classics, antiques, street rods, muscles
cars and special interests. You will find memorabilia, signs, and auto literature.
You will find partially restored vehicles to completely restored. Auto detailing
items, interior decorative items and much, much more AUTO RELATED ITEMS.
We have food vendors and parts hauling are available.
We still have plenty of vendor spaces left!! Be sure to check out the Vintage
Flea Market going on at the fairgrounds Friday and Saturday of the Auto Swap Meet.
Email: chickashaauto@sbcglobal.net
Website: www.chickashaautoswapmeet.com
Phone: 405-224-6552
Oct 17 Medicine Park 8th Annual Street Rod, Muscle Car and Classic Car Show
143 E. Lake Drive, Downtown, Medicine Park, OK 8am-4pm
Registration: 8am-12:30pm; Entry Fee: $30
Mail: 143 E Lake Drive, Medicine Park, OK 73557
$750 for Best of Show Truck; $750 for Best of Show Car
Over fifteen Classes for entries this Year
Email: theoldplantation@yahoo.com
Website: www.theoldplantationrestaurant.com
Phone: 580-529-6262
Oct 22-24 Norman Swap Meet 8am-6pm daily Run by Enthusiasts FOR Enthusiasts!
Cleveland County Fairgrounds 615 East Robinson, Norman OK
Free Parking and Free Admission
Mailing Address: Norman Swap Meet, PO Box 996, Norman, OK 73070
Website: www.NormanSwapMeet.com Phone: or call 405-651-7927
The twice annual All Transportation Swap Meet! The 4th weekend in October and The 3rd weekend in March. Sell your old Race car parts! That unfinished scooter project! Sell your old Classic Truck! Join the fun! At the Norman Swap Meet you can buy and sell Rat Rods, Cars, Trucks, and Parts, Street Rods, Memorabilia, Imports, Kit Cars, Sports cars, Boats, Bikes, Scooters, Model As, Race Cars, Hot Rods, Aircraft, Hang Gliders, Hovercraft, and Kit Cars! Rain or Shine, Inside and Outside booths Our Public Guests are welcome from 9:00AM to 6:00PM Thursday through Saturday!
Also a centrally located Auto, Truck, Bike and Boat, For Sale Area
Indoor Vender spaces $30 Outdoor Vender spaces $30 each! (Spaces $35 at the meet)
Meals available on the grounds, and free parts hauling!
Mail payment to: Norman Swap Meet LLC.,P.O. Box 996, Norman OK 73070
FACEBOOK http://www.facebook.com/pages/Norman-SWAP-MEET-Rods-Boats-Bikes-Scooters-Classics-Parts-Tools/510189935681395
E-mail: NormanSwapMeet@aol.com
Oct 31 Native Cruisers Car Show
Kansas High School, Kansas, OK
Registration: 8am-12noon; Entry Fee: $20
Top 50 Cars and Trucks, Top 3 Rat Rods
Phone: Kyle Proctor 918 864 1480
Nate Peter 918 506 0039
Website: https://www.facebook.com/native.cruisers
Oct 31 Westlake Classic Car Show 9am-2pm
821 West Danforth, Edmond, OK
Pre-register: $10 Entry Fee: $15 the day of the show.
All proceeds will benefit Children's Miracle Network.
Rain-out date: November 7. Phone: (405) 844-4117.
Oct 31 Oklahoma Heart Hospital South Aux 2nd Annual Car and Bike Show
5200 East I-240 Service Road, OKC, OK 11am-1pm
Registration: 9am-11am
Entry Fee: $20; Pre-registration: $15 before Oct 30
Mailing: 5200 East I-240 Service Road, OKC, OK 73135
Dash plaques given to first 50 to Register. Crafts, Food Trucks
Bring little ones in costume to receive some yummy treats!
T-shirts will be available; Trophies and Door Prizes; Annual Fund Raiser.
Email: kalexander@okheart.com ; Phone: 405-628-6049
November 2015
Nov 7 Third Annual Fall Festival Car Show
309 East 3rd, Cordell, OK 10am-3:30pm
Registration Times: 10am-12pm
Entry Fee $25; Awards: 3:30pm
Mail: Fall Festival Car Show, 107 N Market Cordell, ok 73632
Street Outlaws will be there to do meet and greets, judging and
showing their cars. Pre entry will get a t-shirt. Pre-Registration is
due by Oct 24th. Awards for Best Motorcycle, Best paint, Most
Radical Engine, Student, Longest Drive, Best Big Rig, Best Work in
Progress, Rattiest Rat, Special Interest, and Outlaw Choice.
There is no classes. You have a chance to win more than one Award!
Food, Fun, Vendors and Activities for all ages!! Cruise following awards!
Signs will be up to get you to the show.
Email: reflectioneventservices@gmail.com
Phone: 580-330-0536
Nov 14 Kool Cars in Kingfisher
Downtown 7th Street, Kingfisher, OK
Registration 9am- 12pm; Entry Fee: $20; Awards: 3pm
Shine up your classic cars and trucks and come to
Kool Cars in Kingfisher for the town's annual car show.
Admire row after row of hot rods, modified cars and
trucks, muscle cars, original cars and trucks and more
while enjoying live music and concession items.
Door prizes, trophies and dash plaques.
Phone: 405 375 4445
Website: http://www.kingfisher.org/