Ethanol-Free Gasoline in Oklahoma
2014 Area Car Shows
Tulsa Cruise Night
Every Tuesday
Beginning March 11, 2014 5pm-Sunset
FUDDRUCKER'S 71ST & Hwy169
________________________________________________
Bike Night is a family-friendly event set in Downtown Stillwater, OK. Come out on the first Tuesday of every month (April–August) and enjoy live music, food and drink specials, giveaways, and more!
Email: downtown@stillwater.org
Website: http://www.downtownstw.com/bike-night
___________________________________________________________
Blacktop Motorsports Cruise Night
Second Saturday every month 7pm
6th Street and Perkins Road
Stillwater, Oklahoma
__________________________________________
Caffeine and Gasoline Every 3rd Saturday of the Month
LaFortune Park, south lot, 61st&Yale, Tulsa, OK
9am-noon All makes sports and imports, casual come
and go events with drives and Hallet track days scheduled.
Email: candgtulsa@gmail.com Phone: 918-527-2651
Website: http://caffeineandgasolineu.ipage.com/
______________________________________________
Friday Nite Cruise-In Last Friday of Every Month
Burger King, 2908 N 14th Street, Ponca City , OK
Starting time 6:30pm;
Raffle every month, bring something for the Raffle, receive 5 Raffle Tickets; 50/50 Raffle every month.
Free Medium Drink and get 10% off any purchase per Vehicle, Classic, Custom & Vintage Cars, Trucks and Motorcycles. Parking will be in lot South of the 14th Street Burger King Entrance.
_______________________________________________________
Coffee & Cars OKC
First Saturday of every month from 8AM -11AM.
Northpark Mall, 12100 N. May, Oklahoma City, OK 73120
Please join us the first Saturday of every month at Coffee & Cars OKC! We are car enthusiast of all ages, who informally gather to enjoy our passion of motor vehicles. Everyone is welcome, and there are no fees.
*Please Park in the South & S.West & West Parking Lots
- leaving behind the mall (East lot) open for the Academy of Hair Design
*Spectators please park in the North Parking Lot near 122nd Street.
Website: http://www.coffeeandcarsokc.com/
"Cruise in for Coffee " Third Saturday each month, sponsored by the City of Midwest City. A monthly meet & greet from a April -October; It is a free event! 8am-11am; 7305 SE 29th Street, (parking lot between Chick-Fil-A and Old Chicago) -
__________________________________________________________
Patriot Cruise Nights, Riverwalk Crossing, Jenks, OK. We are kicking it off the Memorial weekend Sunday, May 25th. Our cruise nights are schedules for every Sunday night thru September 14th. We are raising awareness and money for the Folds of Honor Foundation. Folds of Honor helps surviving widows and/or their children with higher education expenses. KJSR/Eagle 103.3 Classic Rock will be the radio station promoting this event. This event is free. We will have live classic rock music, concerts on the amphitheater, driver discounts with all the merchants and restaurants and ice cold Budweiser. We are also offering several Tulsa car clubs to have a sponsorship night free of charge. We would love to have you guys and help promote your club in the process. Call me for any questions. Casey W. Criss 918-402-6232
__________________________________________________________________
Take a Child to a Car Show this season!
2014 Area Car Shows
September 2014
2014 Perkins Car Show Dash Plaque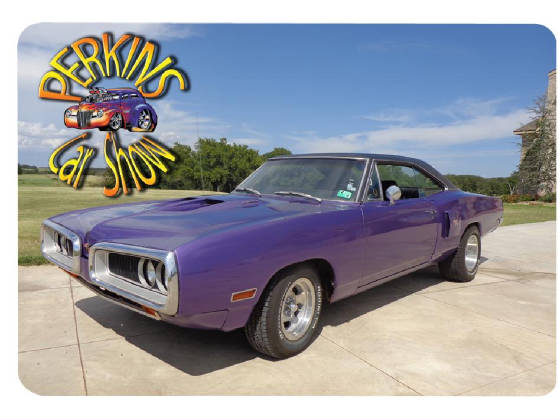 Sponsor CLS Plasticard Bixby and Perkins
September 27 Perkins Car Show
1003 East Hwy 33, Perkins-Tryon High School Perkins, OK
Registration: 8am to 11am Awards at 1pm
Pre-registration: $15 until Sept 20; Day of show $20
Last year's 50 / 50 Pot $1100, in the Rain!
Club Trophy and $100 for most entries!
$50, $25 for pre-registration drawing!
Over 40 Classes of Cars, Trucks, Motorcycles
Three Trophies per class plus 15 Sponsor's Choice Trophies and Best of Show! Awards Ceremony & 50/50 Drawing inside HS Commons Area; Inside air-conditioned concessions & restrooms;
Oldies Music by Dale Turner.
Information: Shelby Lauener at 405 612 7115: slauener@sbcglobal.net
John Dragoo at 405 547 5657 kajon@suddenlink.net
click to download Perkins Cars Show Entry
October 2014
October 4 Mounds 11th Annual Car Show 8am-3pm
Wonderful Downtown Main Street, Hwy 75A, Mounds, OK
Registration: 8am-10am Awards Ceremony: 2pm
Entry Fee: Pre-registration $13; Day of Show $20.00
$3.00 off with two or more non-perishable food items
Mailing Address: Mounds Car Show, P.O. Box 258, Mounds, OK 74047
We will have Vendors on main street, DJ with oldies music.
This show is Rain or Shine. Mounds Car Show benefits
Community Angel Tree and Food Bank
Email: checufe@yahoo.com Phone: Myra 918-346-5867
Website for Car Show: https://www.facebook.com/groups/376044460827/
Oct 4 Annual Walters Car Cruz
Chamber of Commerce Office, 116 N. Broadway, Walters, OK
Registration: 8am-10am;p Awards Ceremony: 3pm
Our theme this year is "Surfs Up" at the Walters Annual Car Cruz. There will be many changes this year besides the Car Show, Cruz and Burnout. The car show is being held up and down Broadway. Registration will be at (inside the Chamber of Commerce Office). Judging of all classes will start at 11:00 am. Car Show Awards and drawings for cash for Car Entrants will be presented at 3:00 p.m. in front of the Bandstand. 1st and 2nd place winners in all classes will receive a trophy and Best of Show will receive a trophy and $800.00. All car show entrants will be eligible for four $200.00 drawings each. The first 100 entries for the car show will receive a dash plate, magnet and decal. 1st place of the burnout will receive $150.00 a trophy and set of Goodyear Tires, 2nd place will receive a trophy and $150.00, Best of Show will receive a trophy and $200.00 and Crowd Pleaser will receive $100.00 and a trophy. The Car and Motorcycle Cruz will begin at 1 pm through midnight. The Cruz will shut down for the Burnout Contest at 6:00 p.m. Awards for the Burn Out, Indian Taco Winners and crowing of the Car Cruz Princess, Car Cruz Queen and drawing for the television, Thunder Gift Basket and $500.00 cash will be immediately following the Burnout. The Car Cruz Committee will provide their own security and safety. Phone: Wes Eidson at 580-695-1350.
Oct 11 Drive'em or Drag'em Car Show 9am-2pm
River City Park, Sand Springs, OK
Registration: Must be registered by 8:30am
Entry Fee: $20 (includes T-Shirt)
All shapes and Sizes, Any condition from projects
to restored. Come join us for lots of activities at the
Chillin & Grillin BBQ Cookoff for the whole family.
The football game will be showing on the outdoor TV!
Phones: Chad Fleming 918.906.4003 or Christina Citty 918.299 2656
Oct 11 Annual Bristow Route 66 Car, Truck, Bike & Tractor Show
Downtown, Route 66, Bristow, OK; Show Time: 8am-4pm
Entry Fee: $25; Pre-registration: $20 until Oct 1;
Mailing: Bristow Car Show, Post Office Box 127, Bristow, OK 74010
Features a variety of vintage rides, muscle cars, trucks, tractors, and tricked out motorcycles along the famed Mother Road. Over thirty classes for trophies. Poker Run Oct 10, 6pm at Community Bank; Make your way to Bristow on Saturday for this exciting car show. Nostalgic 1950s music will be played all day, and '50s costumes are always recommended and encouraged. Prizes for the best dressed and best decorated vendor will be awarded. This must-see show, with entries expected to top 300, will feature a 50/50 pot, live entertainment, Food Vendors, tricycle races, a swap meet and trophies for the winners. Phone: Chamber of Commerce 918-367-5151
Website: http://bristowchamber.com/about-us/route-66-bristow-car-show/
Oct 16-17-18 46th Annual Largest Auto Swap Meet in OK-Chickasha Swap Meet
712 E Choctaw Avenue, Chickasha, OK 7:30am
Thursday-Friday-Saturday-AUTO SWAP MEET
Mail: Chickasha Auto Swap Meet, PO Box 271 Chickasha OK 73023
Chickasha Antique Auto Club holds two swap meets a year. The Fall meet is the largest in Oklahoma. Our usual attendance is over 20,000 per day (mol) The meet is held on 40 acres at 712 E Choctaw, Chickasha Oklahoma. Anything auto related can be found for all makes and models. Many parts and accessories for classics - antiques - street rods - muscle cars - and special interests. Free parts hauling and meals available on grounds. Admission is free. Parking $4 - which benefits a local youth group and the Resurrection House. All spaces 10 x 30 *R*A*I*N OR *S*H*I*N*E*
405-224-OKLA (6552) office 10a-3p M-W-F ***DO NOT CALL OFFICE WEEK OF MEET-- WE ARE AT THE SWAP MEET GROUNDS*** find us on facebook under Chickasha Swap Meet or Chickasha Antique Auto Club or on line at www.chickashaautoswapmeet.com
Email: chickashaauto@sbcglobal.net Phone: 405-224-6552
Oct 18 Street Kings End of Summer Car Show and Cookout
The Beacon Drive-In, 2404 South Division, Guthrie, OK
FREE Gates open at 6pm Double Feature Movies start at dusk
"Return to Macon County" & "Thunder Road"
Bring your Hot Rod, Grill and Fixins for the Tailgate Party
Hosted by the "Street Kings Motor Club"
Mail: Street Kings Okla, 4514 S Division, Guthrie, Ok 73044
Information: Martin Blaney 405 795 9397
Website: http://www.streetkingsokla.com
End of Summer website:
http://www.streetkingsokla.com/sk2010print.html
Email: martin@streetkingsokla.com
Oct 18 Brick Street Classic Car Show and Cruz
Downtown, Waurika, Oklahoma; Entry Fee: $15
Registration: 8am-9am Awards: 3pm
First and Second Place Trophies in all classes
$100 for Best of Show, Cash prizes are given out
in different classes of competition including muscle
cars, antiques, classic pickups, original class, modified
hot rods and motorcycles. 50/50 Pot, First 50 entries will
receive a Dash Plaque, Hot Rod Coloring Contest, Couples
Lawn Mover Races, Bounce House for Kids. Food Vendors
Phone: Cody Simmon 580 313 1574
Oct 18 Medicine Park 7th Annual Street Rod, Muscle Car & Classic Car Show
143 E. Lake Drive, Downtown, Medicine Park, OK; 12pm-5pm
Registration: 7am-12:30pm Entry Fee: $30.00
Mailing: The Old Plantation Restaurant, 143 E. Lake Drive, Medicine Park, Ok 73557
$2500 in cash prizes given away, $600 Best of Show Truck, $600 Best of Show Car,
Cash Prizes for First in all classes
Email: theoldplantation@yahoo.com
Website: http://www.theoldplantationrestaurant.com
Phone: 580-529-6262
Oct 23-24-25 NORMAN SWAP MEET
615 East Robinson, Cleveland County Fairgrounds, Norman, OK
Pre-Registration: just call or 7:30am Thursday
Entry Fee: Free Admission; Times: Rain of Shine 8am-6pm
Mailing Address: NORMAN SWAP MEET, PO Box 996. Norman, OK 73070
The twice annual All Transportation Swap Meet! The 3rd weekend in March or the 4th weekend in October. Sell your old Race car parts! That unfinished scooter project! Sell your old truck! Join the fun! At the Norman Swap Meet you can buy and sell Rat Rods, Cars, Trucks, and Parts, Street Rods, Memorabilia, Imports, Kit Cars, Sports cars, Boats, Bikes, Scooters, Model As, Race Cars, Hot Rods, Aircraft, Hang Gliders, Hovercraft, and Kit Cars! Rain or Shine, Inside and Outside Vender booths Our Public Guests are welcome from 8am-6pm Thursday through Saturday! Also a centrally located Auto, Truck, Bike and Boat, For Sale Area Held at the Cleveland County Fairgrounds in Norman Oklahoma 615 E. Robinson 73071. Free Admission, Indoor and Outdoor Vender Spaces! Phone: 405-651-7927
Email: NormanSwapMeet@aol.com Website: www.NormanSwapMeet.com
Oct 25 Judge's Char-Grill Charity Car, Bike and Truck Show
9201 SE 29th Street, Midwest City, OK 10am-2pm
Registration: 9am-12noon; Entry Fee: $25 Awards: 2pm
Mailing: 9201 SE 29th Street, Midwest City, OK 73130
Charity show for Jennifer Appicello and Justin Waganer. Both were
diagnosed with cancer and are dealing with surgeries, treatment and
expenses. We are just trying to lend a helping hand to both families.
All proceeds will be donated to the families plus a % of all food sales
for the day. Come out and bring a ride or just come out for a great
time and great food. We all thank you!
Email: kspangler18@tds.net Website: Judge's Char-grill
Phone: 405-737-2522
Oct 25 Forest Hill Christian Church Car Show 10am-3pm
2121 North MacArthur Boulevard, Oklahoma City, OK
Registration: 9am-11am Awards Ceremony 2pm
Entry Fee: $25; Pre-Registration: $20 until 10/23/14
27 Classes for first, Second, and third place Trophies
Entry Fee includes Door Prizes, Drawings and Free Lunch
Fingertip to fingertip 50/50 Drawings, Food, Refreshments
Mail: Forest Hill Christian Church, 2121 N. MacArthur Blvd., OKC, OK,
73127 Email: darintroutman@hotmail.com Phone: 405.473.9555
Oct 25 Wewoka Sorghum Day Car Show 8am - 3pm
Main Street, Wewoka, OK
Registration: 8am - 11am
Entry Fee: $20 or $15 pre-entry
Mailing: Wewoka Sorghum Day Car Show, PO Box 719, Wewoka, OK 74884
Downtown Wewoka on main street. Fun for everyone. Over 20,000 attend this town Festival every year that also includes over 100 vendors featuring: food, music, arts, crafts, photography and Native American exhibits. Making of homemade sorghum on the Seminole Nation Museum Grounds.
Awards include plaques for: Top 10 Stock Cars, Top 15 Modified Cars, Top 5 Stock Trucks, Top 5 Modified Trucks, Best Vintage, Best Classic, Best Custom, Best Paint, Best Interior and Best of Show. Free T-Shirt for first 50 entries. T-Shirts are available for sale featuring the prior two years best of show vehicles as the feature vehicles on the shirt. Door Prize drawings during the day that include Cash and Prizes.
Email: lcjohnson2@hotmail.com Phone: 405-380-6600
November 2014
Nov 1 Concordia Classic Car Krooz-In 10am-3pm
Zion Lutheran Church parking lot, 7701 W. Britton Rd., OKC, OK
Registration: 10am-Noon Entry Fee: $20 Awards Presentation: 2pm
Pre-registration: by Oct. 30 for $15;
Mailing: Concordia Life Care Community, 7707 W. Britton Rd., OKC 73132.
Please join us for the 2nd Annual Classic Car Krooz-In. This is a FREE family-friendly Car Show open to the public! Special Drawing for Hot Air Balloon Ride good for 2 (valued at $600) at 2:30pm! Grilled burgers & brats, Door Prizes, 50's & 60's Music, 1st and 2nd Place Trophies for Best Custom, Best Unfinished, Best Paint, Best Interior, Best Import, Best Restored, Best Street Rod, Best Engine, Best Muscle Car, Best Original, Best of Show. Lunch available 11am-1pm for a suggested donation. Event proceeds provide benevolent care to Concordia residents who outlive their resources, through no fault of their own, and need assistance to remain in their home. Special
thanks to our Sponsors Lippert Brothers, Inc., US Foods, Parman & Easterday, Thrivent Financial-Office of Daryl Osmus and Scott Schaefer, Lane Gorman Trubitt PLLC, Moving Stations, Merit Resources, and Senior Transitions of Edmond! We hope to see you there!
For information Phone: Paige at (405)219-2927.
Nov 1 Choctaw Baseball Car and Truck Show
Choctaw High School, 14300 North East 10th Street, Choctaw, OK
Registration: 8am-9am Entry Fee: $20; Awards Ceremony: 12noon
Judging: 10am; Best of Show, Classic Cars & Trucks, Modern Cars & Trucks, Fans Pick
For more Information: shawk@cnpschools.org;
cmoore172427@yahoo.com ;awashburn@cox.net
Nov 8 Kool Cars in Kingfisher
Downtown Kingfisher - 7th Street, Kingfisher, OK
(New Location One Bock west of Main Street)
Registration 9am - 1am; Awards: 2:30 pm; Entry Fee: $20
Sponsored by the Kingfisher Chamber of Commerce
Shine up your classic cars and trucks and come to downtown Kool Cars in Kingfisher for the annual car show. Admire row after row of hot rods, modified cars and trucks, muscle cars, original cars and trucks and more while enjoying live music and concession items. Food, Door Prizes, 50's & 60's Music, 50/50 Pot, Dash Plaques to the first 100 entries. Five Ball Voting for trophies in 35 Classes of Cars, Trucks and Tractors plus Best Paint, Best Engine, Best Interior and Best of Show
Phone: 405 375 4445 Fax: 405 375 5304
Website: http://www.kingfisher.org
Email: secretary@pldi.net or chamber@pldi.net