Ethanol-Free Gasoline in Oklahoma
2015 Area Car Shows
Tulsa Cruise Night
Every Tuesday
Beginning March 17, 2015 5pm-Sunset
91st & Memorial McAlister's and CiCi's Pizza
________________________________________________
Bike Night is a family-friendly event set in Downtown Stillwater, OK. Come out on the first Tuesday of every month (April–August) and enjoy live music, food and drink specials, giveaways, and more!
Email: downtown@stillwater.org
Website: http://www.downtownstw.com/bike-night
___________________________________________________________
Blacktop Motorsports Cruise Night
Second Saturday every month 7pm
6th Street and Perkins Road
Stillwater, Oklahoma
__________________________________________
Caffeine and Gasoline Every 3rd Saturday of the Month
LaFortune Park, south lot, 61st&Yale, Tulsa, OK
9am-noon All makes sports and imports, casual come
and go events with drives and Hallet track days scheduled.
Email: candgtulsa@gmail.com Phone: 918-527-2651
Website: http://caffeineandgasolineu.ipage.com/
______________________________________________
Friday Nite Cruise-In Last Friday of Every Month
Burger King, 2908 N 14th Street, Ponca City , OK
Starting time 6:30pm;
Raffle every month, bring something for the Raffle, receive 5 Raffle Tickets; 50/50 Raffle every month.
Free Medium Drink and get 10% off any purchase per Vehicle, Classic, Custom & Vintage Cars, Trucks and Motorcycles. Parking will be in lot South of the 14th Street Burger King Entrance.
_______________________________________________________
Coffee & Cars OKC
First Saturday of every month from 8AM -11AM.
Northpark Mall, 12100 N. May, Oklahoma City, OK 73120
Please join us the first Saturday of every month at Coffee & Cars OKC! We are car enthusiast of all ages, who informally gather to enjoy our passion of motor vehicles. Everyone is welcome, and there are no fees.
*Please Park in the South & S.West & West Parking Lots
- leaving behind the mall (East lot) open for the Academy of Hair Design
*Spectators please park in the North Parking Lot near 122nd Street.
Website: http://www.coffeeandcarsokc.com/
____________________________________________________
"Cruise in for Coffee " Third Saturday each month, sponsored by the City of Midwest City. A monthly meet & greet from a April -October; It is a free event! 8am-11am; 7305 SE 29th Street, (parking lot between Chick-Fil-A and Old Chicago) -
__________________________________________________________
Tri-City Cruisers Cruise In
First Saturday of Each Month 6pm-9pm
Sonic/Arby's in Tri-City; Newcastle, OK
Year Round with Weather Permitting
Phone: 405-381-9449
______________________________________________________________

Patriot Cruise Nights, Riverwalk Crossing, Jenks, OK. We are kicking it off the Memorial weekend Sunday, May 25th. Our cruise nights are schedules for every Sunday night thru September 13th. We are raising awareness and money for the Folds of Honor Foundation. Folds of Honor helps surviving widows and/or their children with higher education expenses. KJSR/Eagle 103.3 Classic Rock will be the radio station promoting this event. This event is free. We will have live classic rock music, concerts on the amphitheater, driver discounts with all the merchants and restaurants and ice cold Budweiser. We are also offering several Tulsa car clubs to have a sponsorship night free of charge. We would love to have you guys and help promote your club in the process. Call me for any questions. Casey W. Criss 918-402-6232
__________________________________________________________________
Every Saturday night 5pm-8pm
Ron's Hamburger Cruise night
233 Adams Road, Sand Springs, OK
Free drink with meal if you drive a hot rod.
Email: firemanjimtfd@aol.com
______________________________________________________________
Take a Child to a Car Show this season!
2015 Area Car Shows
2014 Perkins Car Show Dash Plaque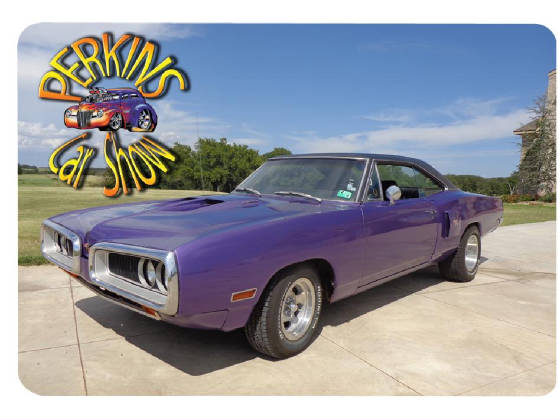 Sponsor CLS Plasticard Bixby and Perkins
March 2015
March 28 Del City Lions Club Car Show 8am-2pm
3925 Southeast 29th Street, Del City, OK
Registration: 8am-11am; Entry Fee: $15
Pancake Breakfast and BBQ lunch
Phone: Delane 405-361-2148
March 28 Beta Iota Hot Rod & Bike Show 9am-3pm
1300 South George Nigh Expressway, McAlester, OK
Pre-registration Fee: $25 on website until March 27;
Registration: 7:30am-; Entry Fee: $35
Paved Parking, Door Prizes, 50/50 Pot, DJ wt Music,
Food, Drinks, Children's Entertainment
All proceeds go towards St. Jude's Children Research
Hospital and local Beta Iota Charities
Email: Jeanie McCabe betaiotacarshow@yahoo.com
Website: http://betaiotacarshow.wix.com/annual
Phone: 918.424.3089
April 2015
April 10-12 SOUTHWEST STREET ROD NATIONALS PLUS
Oklahoma State Fair Park, 3001 General Pershing Blvd, OKC, OK
ALL VEHICLES OF 1985 AND EARLIER MANUFACTURE
ARE WELCOME TO ENTER THE EVENT.
Take advantage of the $10.00 pre-entry discount available through
the March 20th mail-in deadline. When this deadline has passed we
will be able to accept your entry at the event headquarters, which
will be held at the Crowne Plaza located at 2945 Northwest Expressway, OKC.
Event Registration Hours:
Thursday, April 9th - 1 p.m. to 6 p.m.
Friday, April 10th - 9 a.m. to 6 p.m.
Saturday, April 11th - 9 a.m. to 2 p.m.
Even though you may not be in your rod everyone is welcome to attend
the event. Bring the whole family for a day at the Oklahoma State Fairgrounds.
Spectator gate hours will be Friday, April 10th and Saturday, April 11th from
8:30 a.m. to 5:00 p.m. and Sunday, April 12th from 8:30 a.m. to 2:00 p.m.
Spectator admission: $15 - 13 YEARS AND OLDER; $6 - CHILDREN 6 THROUGH 12.
FREE - CHILDREN 5 AND UNDER WHEN ACCOMPANIED BY AN ADULT.
A special discounted $13.00 admission is available for military personnel with proper military Identification, NSRA members with their current membership card or anyone 60 years of age and older. One discounted admission per person.
Website: http://nsra-usa.com/Events/
April 11 Cruizaders Car, Truck, & Cycle Show
111 S. 7th Street, Muskogee, OK 8am-3pm; Awards: 2:30pm
Registration: 8am--11am Entry Fee: $15
Mailing Address: 111 S 7th St., Muskogee, OK 74401
Cruizaders Car Club of Muskogee will hold their 8th Annual Car,
Truck and Cycle Show April 11, 2015. The show is held in conjunction
with Muskogee's Annual Azalea Festival Parade and Chili Cook-off.
Door prizes given by many area merchants. A 50/50 pot is available
for all participants. Awards presented at the show include; Top 25,
Best in Show Car-Truck-Cycle, Best Engine, Best Interior, and Best
Old-Skool Bike. Part of the proceeds from the show go to benefit
First Baptist Church's Free Medical Clinic. T-shirts available for
purchase from the show. Come join us for a great show and the
chili cook-off is close by. Phone: 918 682 3496 or 918 869 6980
Email: reception@fbcmuskogee.org
Website: http://www.muskogeecruizaders.com
April 11 Corvette Expo 9am-4:30pm
Enid Event Center 301 S Independence Avenue, Enid, OK
The Corvette Expo in Enid is one of the largest indoor Corvette shows in Oklahoma. Trophies, Dash Plaques, Door Prizes. President's Choice, Best Interior, Best Paint, Best Engine, Best of Show. The Corvette Expo features Corvettes from a variety of years from a six-state region. Sponsored by Corvettes of Enid; Adults: $3 Children Under 12 $1
Email: linco3@att.net ; Phone: 580-307-7528
Email: gknouse@gmail.com Phone: 580-336-8135
Website: http://www.corvettesofenid.com/
April 17-19 Tulsa International Auto Show
Expo Square, QuikTrip Center, 4145 E 21st St., Tulsa, OK
The Tulsa International Auto Show presents all your favorite makes
and models of new cars and trucks in world class factory presentations.
Exciting and informative displays are featured by manufacturers from
around the world touting their latest designs and innovations. Each year the Tulsa auto show features nearly 600 new models, dozens of pre-production models and a host of prototype and concept vehicles.
Website: http://www.thetulsaautoshow.com/
Email: madapeter@coxinet.net
Phone: 918-742-2626
April 17 Geezers and Gassers
Downtown, Guthrie, OK
Time: 3pm-7pm Pictures at Mineral Wells Park
6pm-9pm Geezers, Gassers & Hawgs Gathering
downtown Guthrie; Oklahoma Avenue
Entry Fee: $20; 50/50 Pot, T-Shirt and Picture First 200 entries.
Door Prizes and tunes by Ronnie Kaye
Pre-register at http://www.guthriegeezers.com
Contact: Dan Newton
April 18 Street Kings Guthrie Hot Rod Cookout
4514 S Division, Guthrie Oklahoma
Gates open at 9am; Everything FREE! No charge!
What? A cookout, concert, car show and swap meet all in one!
The cook out: Free hot dogs, hamburgers, chips and drinks for the
first 500 people in line at 11 am. That is right FREE!
The concert: The Badlands Band
The car show: A come and go as you please event, no trophy's, no rules, no entry fee.
Bring your hot rod, bike, lowrider, 4X4, street racer, ricer, AMC, Chevy, Ford, Mopar, VW,
as long as it has an internal combustion motor, BRING IT!
Contact Martin Blaney 405.795.9397 Email: martin@streetkingsokla.com
Website: http://www.streetkingsokla.com/SK2015.html
April 18 Food and Shelter Car and Motorcycle Show 8am-3pm
First Baptist Church, Parking Lot, 211 West Comanche, Norman, OK
Registration: 8am-12noon: Entry Fee: $20
Mailing Address: CRC 921 Schulze Dr, Norman, OK 73071
29 Classes; 100% go to Food and Shelter in Norman OK
Email: rlan228732@aol.com
Website: http://www.canadianrivercruisers.com
Phone: Ray 405 386 6434 Floyd 405 596 0692
Bill 405 613 9509 John 405 808 4783
April 18 Cruisin' the Chisholm Trail Car & Motorcycle Show
828B W. Main Street, Duncan, OK; Entry Fee: $20
Registration: 8am-11am; Awards: 3pm
April 17 6pm-10pm Participate in the show's poker run: $10 while
traveling up and down the historic Chisholm Trail. Children's
activities, a tattoo contest and live entertainment.
Mail: Main Street Duncan, Po Box 112, Duncan, OK 74534
Email: mainstreetduncan@sbcglobal.net
Website: http://mainstreetduncan.com/CarShowHomeNew.html
Phone: 580-252-8696
April 18 89'er Days Festival Car Show
Downtown, Lexington, OK
Registration: 8am-11:30am; Entry Fee: $5
Mailing Address: Heart of OK Chamber of Commerce, 218 W. Main St. Purcell, OK 73080
At 89er Days in Lexington, a variety of festivities to celebrate the Land Run of 1889 will take place. Bring the whole family out to enjoy carnival rides, live music, a car show and more. Food vendors of all kinds will be on hand, as well as arts and crafts vendors. Don't miss the 89er Days parade, and stick around for the rodeo and gun fighting demonstrations. Cars, Trucks, Motorcycles, and Tractors are
welcome to enter the show!
Website: http://theheartofok.com/
Phone: 405-527-3093 or 405-527-6123
April 25 Spring Fest & Hops Classic Car Show 8am-2pm
Cedar Street & 6th Downtown, On the Square, Perry, OK
Registration: 8am-11am; Entry Fee: $20; Awards Ceremony: 2pm
Pre-registration: $15 until April 24 -6pm at Car Cruise;
Friday April 24 4pm-6pm Registration;
Car Cruise 5pm-7pm; Street Dance 8pm-11pm; Dash Plaques,
20 Specialty Plaques, Trophies, Club with Most Entries Award.
This citywide event features the Hops Classic Car & Motorcycle Show.
Spring Fest in Perry also includes an antique tractor show,
plenty of delicious food for sale, live entertainment by local and regional performers and a wide variety of activities designed especially for children. Bring the kids, enjoy a sunny day in Perry and browse through vendor booths.
Email: information@perrychamber.net
Phone: 580-336-4684 Website: http://perryokchamber.com
April 25 Hale on Wheels Car, Truck, Motorcycle Show 10am-3pm
Nathan Hale High School, 6960 East 21st Street, Tulsa, OK
Registration: 9am-12n; Entry Fee: $25; Before April 20 $20
Awards Ceremony: 2pm; Voting starts at 11:30am and all ballots
must be turned in by 1pm; Over 25 classes for Cars, Trucks, MCs
Trophies, Dash Plaques, Prizes, 50/50 Pot, Food, Drinks, Car Wash,
Car Bash and music by "Black Kat Benders"
Mail: NHAF, PO Box, 471232, Tulsa, OK 74147-1232
Email: info@nathanhalealumni.org
Website: https://www.facebook.com/groups/Hale.on.wheels.car.show/
April 25 Tri-City Cruisers Open Car Show 8am-2:30pm
Hwy 37 & Tri-city Drive, (Behind Braums), Newcastle, OK
Registration: 8am-11am; Entry Fee: $25 Trophies awarded: 2:30pm
Mail: Tri-City Cruisers, P. O. Box 113, Newcastle, OK 73065
Please join us for the Annual Tri-City Cruisers Open Car show and
Craft Fair, April 25th 2015. We will have 50/50 drawing that will
include premium prizes. Continuing with tradition we will have
handcrafted top ten trophies that will be decided by participant
voting. We will have additional Specialty handcrafted trophies
and several Sponsor trophies. We had over 150 cars last year.
We will have an NSRA Safety Inspector on site. All paid entries, will
receive their car's picture on a participant plaque.
Host cars are ineligible for trophies.
Email: mellwm@aol.com Phone: 405-381-9449
Website: http://www.tri-citycruisers.com
May 2015
May 2 "Tulsa Pontiac Nationals & BOP Challenge" Gates Open 7:30am
Tulsa Raceway Park, 3011 North Garnett Road, Tulsa, OK
Car Show, Swap Meet, Drag Races "BOP Challenge"
Drag Races and Car Show open to all Pontiac, Buick, Olds cars and GMC trucks.Time Trials start at 9am; Drivers meeting 12pm; Time trial lanes open all day, with one "OPEN" non-BOP lane as well.
Car Show Parade and Awards at 2:30pm
Gate Admission: $15; Car Show Entry Fee: $10
Hosted by the Indian Nations Chapter of the POIC
Email: gtovette@cox.net Phone: 918 798 2765
May 2 Cody Johnson Car and Bike Show
East Central Football Stadium, Ada, Oklahoma
Registration 8am-10am; Judging 10am-2pm
Awards Ceremony: 2:30pm; Entry Fee: $25
Car, Truck and Bike classes: Original, Modified, Ratrod
All proceeds to benefit the Cody Johnson "Five80" Memorial Scholarship established with East Central University Foundation
Sponsored by: BTH Ink and Iron, American Legion Post 72
In partnership with Sacred Circle Riders and Indian Tacos to benefit a fallen rider.
Contact: Katie Akerman 580-759-6695; Judd Green 580-235-7857
May 3 (Sunday) 2015 Custom Derby Car Show 11am-6pm
Remington Park Race Track & Casino, 1 Remington Place, OKC, OK
Registration: 8am-1pm; Entry Fee: $30; Awards Ceremony: 5pm
Mailing Address: Urban Kustomz, 808 NW 141st Edmond Ok 73013
2015 Custom Derby taking place at Remington Race Track and Casino
during Kentucky Derby Weekend, presented by Urban Kustomz and
Trixxies. We are giving $1000 for best of show, $500 each for Best Car,
Truck, and Motorcycle with over 40 car, truck and bike categories. Will
also feature a $1000 swimsuit competition. Admission for this event
is $15 day of show. Kids ages 12 and under free with parent guardian.
Advance tickets $10. Pre advance deadline in May 1st. Vehicle registration
day of show for cars/trucks $30. Motorcycles $25. Pre Registration for cars
& trucks $25, for Motorcycles $20 Deadline for early registration is
April 24th, 2015. Interested in becoming a sponsor, vender or participating
in our swimsuit contest please email us at urbankustomz@gmail.com
For tickets/registration/info: http://www.streetelitecarandbikeshows.com
Email: urbankustomz@gmail.com
Phone: 405 820 2854
May 3 (Sunday) Putnam City Football Alumni Car Show 11am-4pm
5300 Northwest 50th and Meridian, Putnam City Stadium, OKC, OK
Early Registration: $15 until April 19th,
Late registration: $20 until 10 AM May 3rd
Attendees enter with any $ donation
Meet the guys from Discovery Channel's Street Outlaws
Car show T-Shirts for sale, only $15 while supplies last.
1st place trophy and prize for: Best Pre-60, Best 60-89, Best 90-Present,
Best Custom Car (any year), Best Custom Truck (any year), Best "What is that?"Best Custom Bike, Best Street Bike, Best in Show, People's Choice Best Alumni Car, OKC's Uglies Car that still runs
This is a first year event, but we are really excited with the early entries we have already received, but we need more. If you live in the OKC metro area, Putnam City Football invites you to come on out as a spectator or as an entry or BOTH.
Register online: www.piratecarshow.eventzilla.net.
Phone: 405 602 4501

May 7- 9 Chickasha Spring Auto Swap Meet
712 E Choctaw Avenue, Chickasha, OK
Admission: Free! Parking: $4
Mailings: Chickasha Antique Auto Club, PO BX 271, Chickasha, OK 73023
The Chickasha Spring Auto Swap Meet is held on
40 acres just east of the Grady County Fairgrounds.
Over 1,500 vendors will be on site for three full days,
with auto-related items for all makes and models.
The Chickasha Spring Auto Swap Meet offers car parts,
transportation specialties, signs, classics, antiques,
street rods, muscle cars, special interest vehicles.
Food vendors will also be on-site at this event.
Website: http://www.chickashaautoswapmeet.com/
Phone: 405-224-6552
May 9 30th Annual Oldies'n Goodies Car Show
5th & Dewey - Bartlesville, OK. 8am-3pm
Registration: 8am-11am; Entry Fee: $20.
Mailing Address: P.O. Box 532 Bartlesville, OK. 74005
The 30th Annual Oldies'n Goodies Car Show in beautiful downtown
Bartlesville, OK. Enjoy food vendors, door prizes, event t-shirts,
a live DJ and more. Over $5,000 in prizes to be given away, including
a $500 Grand Prize and Best of Show Trophy.
Email: oldiesngoodies@gmail.com Phone: 918.440.2677
Website: http://www.oldiesngoodiescarclub.com
May 9 Fifteenth Annual Outlaw Cruisers Car Show 8am-3:30pm
Hwy 82, Locust Grove HS Arena Dome, Locust Grove, OK
Registration: 8am – Noon; Entry Fee: $15 Awards Ceremony: 3pm
Huge 27" trophies awarded, NEW Truck Classes, TOP 64 plus
Eleven Special Awards, Cash & Door Prizes, Live R&R Music,
Food Vendors. Held in conjunction with Locust Grove Founders
Day Celebration.
Email: Susan s-lacy@hotmail.com Phone: Wayne @ 918-906-6630
Website: http://outlawcruisers.com/2015-founders-day/
May 9 Bob Moore All Ford Car and Truck Show 9am-3pm
8948 S I-35 Service Road, Oklahoma City, OK
Registration: 9am - 10am; Entry Fee: $25 Awards: 3pm
Mailing: OMC, PO Box 244, Mustang, OK 73064
The Oklahoma Mustang Club will hosting the 3rd Annual Bob Moore
Ford Car and Truck Ford Show at it's dealership at SE89th and I35 on
May 9th, 2015. Cost: $20 early entry, $25 the day of the show. Participants will be provided a free T-Shirt and free lunch! Awards will be given to the top three in each class as well as BEST OF SHOW in 3 different categories.
For a copy of the flyer and registration form go to the following link: http://www.okmustangclub.com/event_calendar/omc-car-show-2/
Email: showchair@okmustangclub.com
Website: http://www.okmustangclub.com
Phone: 405.413.9501
May 9 Travis Fast Memorial Car Show
First Christian Church, 629 NW 12th Street, Moore, OK
Registration: 8am-11am; Entry Fee: $25; Early by April 24 $20
Judging: 12pm-2pm; Awards Ceremony: 4pm
Over 30 Classes; Dash Plaques and Goodie Bags to the first 50 registered
Limit of 150 car so register early!! Sponsored by the Central OK Mustangs
Phone: George Ebbs 405 640 9382 or Scott Winters 405 763 8450
Email: george@travisfastmemorial.com or centraloklahomamustangs@gmail.com
Website: http://www.centraloklahomamustangs.com/
May 9th Crawds 'N Rods Car, Truck and Motorcycle Show
NE 75th Street & C Street, Elgin, OK; Awards: 5pm
Registration: 8am-11am; Entry Fee:
Bring the whole family out to enjoy the biggest crawfish boil
in southwest Oklahoma, as well as a top-notch car show,
poker run for both motorcycles and other vehicles, and a huge
burn out contest. In addition to the automotive aspect, there is
also a fun carnival and free admission. Food vendors offering
hamburgers, hotdogs and cold drinks.
Website: http://www.crawdsnrods.com/
Phone: 580-512-7014 580-492-5777
May 16 Riverview Hot Rod, Classic and Custom Car Show 9am-3pm
13201 S. Memorial Drive, Bixby, OK 74008
Registration: 8am-11am; Entry Fee: FREE (donations Accepted)
Mailing: RBC, 13201 S. Memorial Dr. Bixby OK 74008
Riverview Baptist Church 2nd Annual Hot Rod, Classic and Custom Car Show. We had over 100 cars last year and our goal is to double that number this year. 100% of the proceeds will go to Riverview's 2015 Panama mission trip. There is no set price for spectators, we simply ask for a donation in any amount to help fund our 2015 mission trip to minister to the Nobe Bugle people group in Boquete, Panama. Car Truck and Motorcycle Free Entry (Donations Accepted) All makes, models, years, and clubs are welcome to enter the show. There is no entry fee, and the first 100 cars will receive a collectable dash plaque at registration on the morning of the show. Trophies will be given to winners in 20 categories. Attractions: BBQ Cook Off, Come Hungry because someone is going to have to eat all that delicious BBQ. Kid Zone Carnival set up with inflatables, face painting, games, and prizes geared towards younger kids. Prizes you will actually want to win will be given to car owners entered every 15 minutes. Spectator Prizes will also be given away. Prize examples: Tools, Gas cards, T-shirts, Electronics, Food and more. Concession: BBQ sampler plates, BBQ Sandwiches, desserts and non-alcoholic beverages will be served. All proceeds going to our 2015 mission trip.
Trophies awarded in the following categories:
CARS: *Pre 1940 Stock, *Pre 1940 Modified, *1940-1959 Stock, *1940-1959 Modified, *1960-1969 Stock, *1960-1969 Modified, *1970-1989 Stock, *1970-1989 Modified, *1990-2015 Stock, *1990-2015 Modified
TRUCKS: *Pre 1960 stock, *Pre 1960 modified, *1960 and newer Stock, *1960 and newer Modified, Off Road: *Best Off road vehicle
Motorcycles: *Best Cruiser, *Best paint and or Chrome
Best in Show; The Best in Show will be removed from its category and awarded People's Choice by the popular vote of the spectators, which includes a $100 cash prize
Email: victor.mendoza@riverview-church.org
Website: http://www.riverview-church.org
Phone: 918-369-2055
May 16 Big Heart Car and Motorcycle Show 8am-4pm
10313 State Hwy 11,East Main Street, Barnsdall, OK
Entry Fee: $15 Registration: 8am-11am
Festivities of Music, Food, and Games
Mailing: Barnsdall Chamber of Commerce, P.O. Box 443, Barnsdall, OK 74002
Come join us for the 8th annual Big Heart Car Show. Held in conjunction with Big Heart Days in Barnsdall, OK. You are encouraged to drive your vehicle in the Big Heart Day Parade.
Phone: John Hood 918-381-7703
May 17 (Sunday) Norman Community Church of the Nazarene Car Show
1801 North Porter Avenue, Norman, OK 1pm-5pm
Entry Fee: $20; Registration: 1pm-3pm; Awards: 4:30pm
Benefits the NCCN Student Ministries, Admission is free to the public
Food and Door Prizes; The first 50 to register get a free goody bag. Door Prizes, food and drinks to purchase, 50/50, and so much more. If you have questions you can check us out on Facebook at NCCN Car Show
1st and 2nd place trophies awarded for:
CARS: Pre 50's, 50's, 60's, 70's, 80's, 90's 2000's
Mustang 79 & older, Mustang 1989-1999, Mustang 2000 & Newer
Corvette 53-69, Corvette 70-83, Corvette 84 & Newer
T-Buckets – Roadster, Camaro/Firebird, Volkswagen, Italian Import
MG, Muscle Car, Sport Compact, Special Interest, Unfinished
TRUCKS: Pre 60's, 60's, 70's, 80's, 90's, 2000's ,SUV
BEST-OF-SHOW Car & Truck, Best Paint, Best Engine, Best Interior
Club Participation, Youth Pick
Phone: Craig Shepperd (405) 321-3423
Email: craig@normannaz.com
Website: http://www.normannaz.com
May 23 Bethany 66 Festival People's Choice Car Show
Northwest 39th Expressway and Asbury Street, Bethany, OK
Registration: 8am-10am; Entry Fee: $30
Pre-registration: $25 through May 1; Awards Ceremony: 3pm
First and Second Place Trophies for 18 Classes
Judging by show participants; Best Paint, Best Engine, Best Interior,
Best of Show, plus $500 for People's Choice Show Favorite,
plus $250 cash during Awards Ceremony; Extra Free Event!!
Friday May 22 at Sonic Cruise-In: 6:30pm at 3900 North Asbury, Bethany
Website: http://www.bethany66.com
May 23 Route 66 Patriot Car Show 8am-4pm
SW Boulevard between Union&39th Street, Tulsa, OK
Pre-registration Fee: $15 until May 8
Entry Fee: $20; Registration: 8am-11am
Food, Music, Carnival for the kids plus Arts and Crafts
The 2015 Route 66 Patriot Car Show & Cruise hosted by
Tulsa Route 66 Main Street is an annual event held on
Saturday of Memorial Day weekend. The proceeds will
go to benefit American Veterans and their families with
Folds of Honor and Tulsa Route 66 Main Street to revitalize
our community. This is a city wide event involving Tulsans
young and old inviting native Tulsans and visitors from afar
to show how the patriotism runs deep in the heartland.
Southwest Tulsa Community organizations and Crystal City.
Contact: Vicki Scott Phone: 918-693-1935 918-260-0044
Email: hotrodsforheroes@yahoo.com
Website: http://www.route66patriotcarshow.com/
June 2015
June 5-6-7 Leake Collector Car Auction
River Spirit Expo Center, Tulsa, Oklahoma
General Admission: Adults $15; Seniors $10;
Military $10; Children 3 and up $7
700 Cars; To bid or consign: 800.722.9942
Sponsored by: Hagery, Hard Rock Casino, Reliable Carriers,
Citizens Security Bank
Website: http://www.leakecar.com
Email: infor@leakecar.com
June 6 Annual Route 66 Blowout 9am-4pm
Downtown, 101 E. Dewey, Main Street, Sapulpa, OK
Registration: 7am-10am (No late entries accepted)
Judging at 11:00 am; Awards: 3pm
Pre-registration: $25 by June 5; Entry Fee: $30 day of Show
Top 3 in each Class, Over $1000 in cash and prizes,
$100 Best Club Participation, $50 Long Distance prize, Live DJ,
Goodie Bags for First 200 entrants, Arts & Craft Fair, Children's Activities,
Sapulpa's downtown offers a great variety of activities for the entire family.
Our streets are lined with vintage and modern cars for our Route 66 Car Show,
food vendors offering a variety of delightful snacks and a Children's Zone filled
with entertainment for children. Visit our Salsa Tent for the Salsa Tasting Contest!
There is something for the whole family! Phone: 918-224-5709
Website: http://www.route66blowout.com
June 6 Schooners Car Club Car, Truck and Motorcycle Show
Lake Ponca, Ponca City, OK
Registration: 8am Entry Fee: $20
All year vehicles are welcome for this event but vehicle must be driven
in to register/enter. Awards will be presented for the Top 20 Cars and
Top Motorcycle. Goody Bags, 50/50 Pot, T-shirts, Door Prizes
purchase during the event. Phone: Frank Cain (580) 362-5290
Website: http://schoonerscarclub.com/wp/
June 6 MOPARS on the River 8am-4pm
Lower Bricktown Parking lot, Oklahoma City, OK
Registration: 8am; Entry Fee: $30
Mailing: COMA, P.O. Box 96061, OKC, OK 73143
An ALL-MOPAR SHOW; the 32nd annual for the
Central Oklahoma MOPAR Association.
Swap Meet, Food Vendors, 50/50 Pot Drawing,
Goodie bags, Show Magnet, Door Prizes, Trophies
Email: franklipsinic@cox.net
Website: http://www.okcmopars.com
Phone: 405-821-7343
June 6 Oklahoma Corvette Roundup 10am-2pm
Hafer Park, South Bryant Ave. at E 9th St., Edmond, OK
Registration: 8am-10am
Entry Fee: $30 ($25 before May 22nd)
Mailing Address: COCC, PO Box 721290, Oklahoma City, OK 73172
Saturday June 6th is the Corvette Car Show with twenty-one classes
in two kinds of judging, Concours and Show & Shine. We will also have
Best of Show, Best Engine, Best Interior, Best Paint, Presidents Choice
and People's Choice Awards. We will also have Door Prizes, Vendors,
Food, Music, 50/50 Pot, Silent Auction, and more!
Email: coccshow14@outlook.com
Website: www.CentralOkCorvetteClub.org
Phone: 405-755-2331 or 405-721-4523
June 13 Hogs 'N' Hot Rods 9am - 6pm
Downtown, Collinsville, OK
Registration: 7am - 11am; Entry Fee: $20 on-line; $25 at show
Mailing Address: 1126 West Main Street, Collinsville, OK 74021
Oklahoma's Premier Event with live music, tons of local vendors,
great food and featuring hundreds of classic, custom and vintage
cars and bikes.
Email: downtownincorporated@gmail.com
Phone: 918-371-5530
June 20 Corvettes at 'The Grand' 8am-2pm
The Grand Casino - 777 Grand Casino Boulevard, Shawnee, OK
Registration: 8am-11am Entry Fee: $30 Before June 7, $35 Day of show
8th Annual NCCO All Corvette Show Awards Ceremony: 2pm
Door Prizes - Silent Auctions - Vendors - 50/50 Pot - 1st, 2nd, & 3rd in each Generation - The Grand Casino Pick - Presidents Pick - Best of Show - Club Participation - Bryan Monroe Memorial Award. Judged Show: Classes C1-C7 and Custom;
Rudy's BBQ will be selling great BBQ
Hotel: (405) 964-7777 -Ask for Corvette show rate
100% of the Proceeds go to the USMC Toys for Tots Program, EVERY DANG DIME!
Email: jeffdgoodman@hotmail.com Phone: 405.882.6908
June 26-27 Wheels~n~Deals Car Show
Dewey Avenue, Poteau, OK 8am - 2pm
Registration: 8am-11am
Entry Fee: $15 pre-registration & $20 day of show
Mailing Address: 104 N. Witte Street Poteau, OK 74953
Friday June 26th will be a cruise night with a burnout contest
and then June 27th the Wheels~N~Deals Car Show! OPEN ENTRY $15
for pre-registration and $20 day of show. We will have Food venders,
arts, and crafts. All happening in historic down town Poteau, home of
the world's tallest hill. Phone: 918-839-6678
Email: jporter@thecommunitysb.com
Website: http://www.historicdowntownpoteau.com
June 27 Knights Auto Club of Shawnee 8am - 4pm
1400 East Main Street, Boy Scout Park, Shawnee OK
Registration: 8am-11am; Entry Fee: $15 before June 20, $20 day of show
Mailing: Knights Auto club, P.O. Box 3217 Shawnee Ok 74802-3217
Knights Auto Club of Shawnee OK 30th Annual Car Show will be held on 27 June in Boy Scout Park 1400 East Main (corner of East Main Street and Pesotum Avenue), Shawnee Okla. Get ready for the revving of engines and car-centric camaraderie as the annual Knights Auto Club Car Show roars into Shawnee. Attracting over 150 entries each year, this car show features plenty of family fun, and a variety of vendors in a beautiful park with lots of shade. Check out an impressive display of classic cars and custom hot rods while waiting to see which lucky vehicle owner will win awards in categories such as best engine, best paint, best interior, the mayor's choice award and the hotly-contested best of show. In all we have 35 categories so all types of cars are welcome. There will be many great door prizes, hourly cash drawings and grand prize drawings for $250 and $500! Registration received before the 20th of June $15, day of show $20. Registration from 8-11am, participant voting 11am -1pm, Awards 3pm.
For info phone: Bud 405-306-0160, Randy & Lisa 405-275-0241, Paul 405-627-9468
Email: buddymc57@yahoo.com
July 2015
July 9-10-11 6th Annual Hwy 59 Swap Meet and Rat City Car Show
Independence Baptist Church, West Siloam Springs, OK
Car Show is Saturday, July 10 Entry Fee: $15
Registration: 8am-Noon; Judging: 1pm, Trophies: 2:30pm
Phone: Ed 918-723-3530 or 479-427-6944
August 2015
Aug 15 Helping Hands Car Show 8am-3:30pm
Hwy 62, The Park, Prague, OK
Registration: 8am-11:30am
Entry Fee: $15 for pre registered $20 day of show
Mailing: Helping Hands, 101879 S. Hwy 99, Prague, OK 74864
10th Annual Helping Hands is a benefit for children and seniors at Christmas. This year features 51 classes 3 trophies per class. Plus numerous sponsor awards, club participation, longest distance and best of show. Our DJ's, Mr Rockin Randall and Mr. Radio Rich will be playing the greatest hits from days gone by. Pre registered entries can choose your favorite song and watch the real 45 play. Dash plaques for first 150. Bring a new toy for chance to win 32in TV. Lots of shade trees. Fun for everyone. Good food!
Email: carshowlady@gmail.com Phone: 405 567 4602 or 405 566 9047
September 2015
Sept 6 Pontiac Show-me Regionals 8am-3:30pm
Hwy 76, Dick Clarks, Branson, Mo.
Registration: 8am to 12 pm; Entry Fee: $20
Mailing: Pontiac Regionals, 3459 S Parkhill Ave., Springfield, Mo 65807
Pontiac and GMC trucks only as car show entries
Email: flh8855@aol.com
Website: Facebook.com/GO-POCI
Phone: 417-894-2327
Sept 12 Oklahoma Mustang Club Annual Stampede Car Show
928 N Mustang Road, Mustang, OK; 8am - 3pm
Registration: 8am - 10am; Entry Fee: $30; Awards: 3pm
Mailing Address: OMC, PO Box 244, Mustang, OK 73064
In conjunction with this year's Stampede car show, we will also be
hosting the 1st Annual M6A Car show (Mustang 6 Association). The
OMC Annual Stampede Car Show will be held at the First Baptist
Church of Mustang at 928 N. Mustang Road in Mustang. Save $5 by
registering early (prior to September 6th). We'll have a DJ for music,
door prizes, and dash plaques along with a 50/50 pot. We have over
35 Open classes and that many Mustang classes too! Awards will be
presented to 1st - 3rd place. We will also have 4 Best of Show in both
the Open and Mustang classes selected by the city dignitaries along
with the Luke Lucas Award of Excellence for the best Mustang.
Email: showchair@okmustangclub.com
Website: http://www.okmustangclub.com
Phone: 405.413.9501
Sept 12 Classic Cars of Ponca City Annual Show and Shine
Hutchins Memorial Auditorium, Fifth and Overbrook, Ponca City, OK
Registration: 8am-12pm; Entry Fee: $15; Time: 8am-3pm
Goody Bags, Dash Plaques to first 100 entries, Door Prizes,
Cash Prizes, Food Vendors; Awards for Top 15, Best Hot Rod,
Best Kustom, Best Unfinished, Best Paint, Best Original,
Best Muscle Car, Best Interior, Best Truck, Best Convertible,
Best Engine and Best of Show.
Phone: Doug Long 580 762 5572 or Guy Anderson 580 765 8514
Email: cars@poncacitycarclub.com
Website: Classic Cars of Ponca City
Sept 20 Twelfth Annual South Tulsa Baptist Church Car Show
10310 S Sheridan, Tulsa, OK 1-6 pm
Entry Fee: FREE ; No judging! Free burgers!
Registration: Show up any time after 1pm
Jim Grisham, 8741 S 68th E Ave Tulsa OK 74133
Email: j_grisham@sbcglobal.net or Call 918-808-8031
Website: http://www.southtulsabaptist.org
September 26, 2015 Perkins Car Show
1003 East Hwy 33, Perkins-Tryon High School Perkins, OK
Registration: 8am to 11am Awards at 1pm
Pre-registration: $15 until Sept 20; Day of show $20
Last year's 50/50 Pot $2400!!!
Club Trophy and $100 for most entries!
$50, $25 for pre-registration drawing!
Over 40 Classes of Cars, Trucks, Motorcycles
Three Trophies per class plus 15 Sponsor's Choice Trophies and Best of Show! Awards Ceremony & 50/50 Drawing inside HS Commons Area; Inside air-conditioned concessions & restrooms;
Oldies Music by Dale Turner.
Information: Shelby Lauener at 405 612 7115: slauener@sbcglobal.net
John Dragoo at 405 547 5657 kajon@suddenlink.net
click 2015 Perkins Car Show Flyer
October 2015
Oct 22-24 Norman Swap Meet 8am-6pm daily Run by Enthusiasts FOR Enthusiasts!
Cleveland County Fairgrounds 615 East Robinson, Norman OK
Free Parking and Free Admission
Mailing Address: Norman Swap Meet, PO Box 996, Norman, OK 73070
Website: www.NormanSwapMeet.com Phone: or call 405-651-7927
The twice annual All Transportation Swap Meet! The 4th weekend in October and The 3rd weekend in March. Sell your old Race car parts! That unfinished scooter project! Sell your old Classic Truck! Join the fun! At the Norman Swap Meet you can buy and sell Rat Rods, Cars, Trucks, and Parts, Street Rods, Memorabilia, Imports, Kit Cars, Sports cars, Boats, Bikes, Scooters, Model As, Race Cars, Hot Rods, Aircraft, Hang Gliders, Hovercraft, and Kit Cars! Rain or Shine, Inside and Outside booths Our Public Guests are welcome from 9:00AM to 6:00PM Thursday through Saturday!
Also a centrally located Auto, Truck, Bike and Boat, For Sale Area
Indoor Vender spaces $30 Outdoor Vender spaces $30 each! (Spaces $35 at the meet)
Meals available on the grounds, and free parts hauling!
Mail payment to: Norman Swap Meet LLC.,P.O. Box 996, Norman OK 73070
FACEBOOK http://www.facebook.com/pages/Norman-SWAP-MEET-Rods-Boats-Bikes-Scooters-Classics-Parts-Tools/510189935681395
E-mail: NormanSwapMeet@aol.com
Oct 31 Westlake Classic Car Show 9am-2pm
821 West Danforth, Edmond, OK
Pre-register: $10 Entry Fee: $15 the day of the show.
All proceeds will benefit Children's Miracle Network.
Rain-out date: November 7. Phone: (405) 844-4117.