Ethanol-Free Gasoline in Oklahoma
2014 Area Car Shows
Tulsa Cruise Night
Every Tuesday
Beginning March 11, 2014 5pm-Sunset
FUDDRUCKER'S 71ST & Hwy169
________________________________________________
Bike Night is a family-friendly event set in Downtown Stillwater, OK. Come out on the first Tuesday of every month (April–August) and enjoy live music, food and drink specials, giveaways, and more!
Email: downtown@stillwater.org
Website: http://www.downtownstw.com/bike-night
___________________________________________________________
Blacktop Motorsports Cruise Night
Second Saturday every month 7pm
6th Street and Perkins Road
Stillwater, Oklahoma
__________________________________________
Caffeine and Gasoline Every 3rd Saturday of the Month
LaFortune Park, south lot, 61st&Yale, Tulsa, OK
9am-noon All makes sports and imports, casual come
and go events with drives and Hallet track days scheduled.
Email: candgtulsa@gmail.com Phone: 918-527-2651
Website: http://caffeineandgasolineu.ipage.com/
______________________________________________
Friday Nite Cruise-In Last Friday of Every Month
Burger King, 2908 N 14th Street, Ponca City , OK
Starting time 6:30pm;
Raffle every month, bring something for the Raffle, receive 5 Raffle Tickets; 50/50 Raffle every month.
Free Medium Drink and get 10% off any purchase per Vehicle, Classic, Custom & Vintage Cars, Trucks and Motorcycles. Parking will be in lot South of the 14th Street Burger King Entrance.
_______________________________________________________
Coffee & Cars OKC
First Saturday of every month from 8AM -11AM.
Northpark Mall, 12100 N. May, Oklahoma City, OK 73120
Please join us the first Saturday of every month at Coffee & Cars OKC! We are car enthusiast of all ages, who informally gather to enjoy our passion of motor vehicles. Everyone is welcome, and there are no fees.
*Please Park in the South & S.West & West Parking Lots
- leaving behind the mall (East lot) open for the Academy of Hair Design
*Spectators please park in the North Parking Lot near 122nd Street.
Website: http://www.coffeeandcarsokc.com/
"Cruise in for Coffee " Third Saturday each month, sponsored by the City of Midwest City. A monthly meet & greet from a April -October; It is a free event! 8am-11am; 7305 SE 29th Street, (parking lot between Chick-Fil-A and Old Chicago) -
__________________________________________________________
Patriot Cruise Nights, Riverwalk Crossing, Jenks, OK. We are kicking it off the Memorial weekend Sunday, May 25th. Our cruise nights are schedules for every Sunday night thru September 14th. We are raising awareness and money for the Folds of Honor Foundation. Folds of Honor helps surviving widows and/or their children with higher education expenses. KJSR/Eagle 103.3 Classic Rock will be the radio station promoting this event. This event is free. We will have live classic rock music, concerts on the amphitheater, driver discounts with all the merchants and restaurants and ice cold Budweiser. We are also offering several Tulsa car clubs to have a sponsorship night free of charge. We would love to have you guys and help promote your club in the process. Call me for any questions. Casey W. Criss 918-402-6232
__________________________________________________________________
Take a Child to a Car Show this season!
2014 Area Car Shows
2014 Perkins Car Show Dash Plaque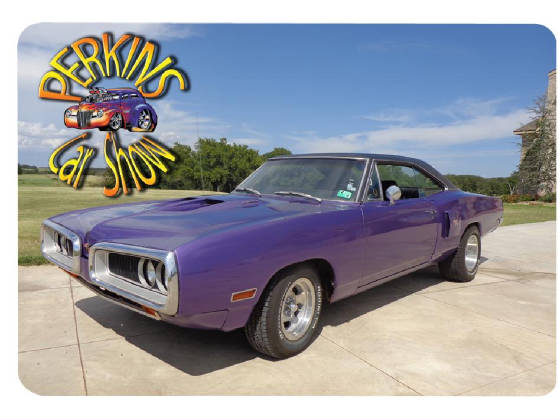 Sponsor CLS Plasticard Bixby and Perkins
November 2014
Nov 1 Concordia Classic Car Krooz-In 10am-3pm
Zion Lutheran Church parking lot, 7701 W. Britton Rd., OKC, OK
Registration: 10am-Noon Entry Fee: $20 Awards Presentation: 2pm
Pre-registration: by Oct. 30 for $15;
Mailing: Concordia Life Care Community, 7707 W. Britton Rd., OKC 73132.
Please join us for the 2nd Annual Classic Car Krooz-In. This is a FREE family-friendly Car Show open to the public! Special Drawing for Hot Air Balloon Ride good for 2 (valued at $600) at 2:30pm! Grilled burgers & brats, Door Prizes, 50's & 60's Music, 1st and 2nd Place Trophies for Best Custom, Best Unfinished, Best Paint, Best Interior, Best Import, Best Restored, Best Street Rod, Best Engine, Best Muscle Car, Best Original, Best of Show. Lunch available 11am-1pm for a suggested donation. Event proceeds provide benevolent care to Concordia residents who outlive their resources, through no fault of their own, and need assistance to remain in their home. Special
thanks to our Sponsors Lippert Brothers, Inc., US Foods, Parman & Easterday, Thrivent Financial-Office of Daryl Osmus and Scott Schaefer, Lane Gorman Trubitt PLLC, Moving Stations, Merit Resources, and Senior Transitions of Edmond! We hope to see you there!
For information Phone: Paige at (405)219-2927.
Nov 1 Choctaw Baseball Car and Truck Show
Choctaw High School, 14300 North East 10th Street, Choctaw, OK
Registration: 8am-9am Entry Fee: $20; Awards Ceremony: 12noon
Judging: 10am; Best of Show, Classic Cars & Trucks, Modern Cars & Trucks, Fans Pick
For more Information: shawk@cnpschools.org;
cmoore172427@yahoo.com ;awashburn@cox.net
Nov 8 Kool Cars in Kingfisher
Downtown Kingfisher - 7th Street, Kingfisher, OK
(New Location One Bock west of Main Street)
Registration 9am - 1am; Awards: 2:30 pm; Entry Fee: $20
Sponsored by the Kingfisher Chamber of Commerce
Shine up your classic cars and trucks and come to downtown Kool Cars in Kingfisher for the annual car show. Admire row after row of hot rods, modified cars and trucks, muscle cars, original cars and trucks and more while enjoying live music and concession items. Food, Door Prizes, 50's & 60's Music, 50/50 Pot, Dash Plaques to the first 100 entries. Five Ball Voting for trophies in 35 Classes of Cars, Trucks and Tractors plus Best Paint, Best Engine, Best Interior and Best of Show
Phone: 405 375 4445 Fax: 405 375 5304
Website: http://www.kingfisher.org
Email: secretary@pldi.net or chamber@pldi.net
Nov. 8 Westlake Classic Car Show 9am-2pm
821 W. Danforth, Edmond, OK
Pre-registration: $10; Registration: $15
All proceeds will benefit Children's Miracle Network.
Rain-out date, November 15.
Phone: (405)-844-4117.
September 2015
September 26, 2015 Perkins Car Show
1003 East Hwy 33, Perkins-Tryon High School Perkins, OK
Registration: 8am to 11am Awards at 1pm
Pre-registration: $15 until Sept 20; Day of show $20
Last year's 50/50 Pot $2400!!!
Club Trophy and $100 for most entries!
$50, $25 for pre-registration drawing!
Over 40 Classes of Cars, Trucks, Motorcycles
Three Trophies per class plus 15 Sponsor's Choice Trophies and Best of Show! Awards Ceremony & 50/50 Drawing inside HS Commons Area; Inside air-conditioned concessions & restrooms;
Oldies Music by Dale Turner.
Information: Shelby Lauener at 405 612 7115: slauener@sbcglobal.net
John Dragoo at 405 547 5657 kajon@suddenlink.net
click 2015 Perkins Car Show Flyer