Ethanol-Free Gasoline in Oklahoma
2014 Area Car Shows
Tulsa Cruise Night
Every Tuesday
Beginning March 11, 2014 5pm-Sunset
FUDDRUCKER'S 71ST & Hwy169
________________________________________________
Bike Night is a family-friendly event set in Downtown Stillwater, OK. Come out on the first Tuesday of every month (April–August) and enjoy live music, food and drink specials, giveaways, and more!
Email: downtown@stillwater.org
Website: http://www.downtownstw.com/bike-night
___________________________________________________________
Blacktop Motorsports Cruise Night
Second Saturday every month 7pm
6th Street and Perkins Road
Stillwater, Oklahoma
__________________________________________
Caffeine and Gasoline Every 3rd Saturday of the Month
LaFortune Park, south lot, 61st&Yale, Tulsa, OK
9am-noon All makes sports and imports, casual come
and go events with drives and Hallet track days scheduled.
Email: candgtulsa@gmail.com Phone: 918-527-2651
Website: http://caffeineandgasolineu.ipage.com/
______________________________________________
Friday Nite Cruise-In Last Friday of Every Month
Burger King, 2908 N 14th Street, Ponca City , OK
Starting time 6:30pm;
Raffle every month, bring something for the Raffle, receive 5 Raffle Tickets; 50/50 Raffle every month.
Free Medium Drink and get 10% off any purchase per Vehicle, Classic, Custom & Vintage Cars, Trucks and Motorcycles. Parking will be in lot South of the 14th Street Burger King Entrance.
_______________________________________________________
Coffee & Cars OKC
First Saturday of every month from 8AM -11AM.
Northpark Mall, 12100 N. May, Oklahoma City, OK 73120
Please join us the first Saturday of every month at Coffee & Cars OKC! We are car enthusiast of all ages, who informally gather to enjoy our passion of motor vehicles. Everyone is welcome, and there are no fees.
*Please Park in the South & S.West & West Parking Lots
- leaving behind the mall (East lot) open for the Academy of Hair Design
*Spectators please park in the North Parking Lot near 122nd Street.
Website: http://www.coffeeandcarsokc.com/
"Cruise in for Coffee " Third Saturday each month, sponsored by the City of Midwest City. A monthly meet & greet from a April -October; It is a free event! 8am-11am; 7305 SE 29th Street, (parking lot between Chick-Fil-A and Old Chicago) -
__________________________________________________________
Patriot Cruise Nights, Riverwalk Crossing, Jenks, OK. We are kicking it off the Memorial weekend Sunday, May 25th. Our cruise nights are schedules for every Sunday night thru September 14th. We are raising awareness and money for the Folds of Honor Foundation. Folds of Honor helps surviving widows and/or their children with higher education expenses. KJSR/Eagle 103.3 Classic Rock will be the radio station promoting this event. This event is free. We will have live classic rock music, concerts on the amphitheater, driver discounts with all the merchants and restaurants and ice cold Budweiser. We are also offering several Tulsa car clubs to have a sponsorship night free of charge. We would love to have you guys and help promote your club in the process. Call me for any questions. Casey W. Criss 918-402-6232
__________________________________________________________________
Take a Child to a Car Show this season!
2014 Area Car Shows
September 2014
Sept 6 Oklahoma Mustang Club Annual Stampede Car Show

First Baptist Church, 928 N. Mustang Road, Mustang, OK
Registration: 8am-11am; Awards Ceremony: 3:00pm

Save $5 by registering early (prior to September 3rd.
We'll have a DJ for music, door prizes, and dash plaques along with a 50/50 pot. We have over 35 Open classes and that many Mustang classes too! Awards will be presented to 1st - 3rd place. We will also have 4 Best of Show in both the Open and Mustang classes selected by the city dignitaries along with the Luke Lucas Award of Excellence for the best Mustang. The OMC will also host a free hospitality night the evening before at the Mustang Town Center (59th& Mustang Road). For more information and registration info/form, please go to
Website: http://www.okmustangclub.com/
Email: omc_showchair@yahoo.com
Phone: 405-413-9501
Sept 6 Good Vibrations Car/Truck/Motorcycle Show
Blinn Park, North Main, Tonkawa, OK 8:30am-2pm
Registration: 8:30am-11am; Entry Fee: $20
Mailing: Good Vibrations Car Show, 102 E. Grand, Tonkawa, OK 74653
Event includes Swap Meet, Poker Walk, 50/50 pot, door prizes, cash
drawings and vendors. Awards for Top 10 cars/trucks and
Top 3 motorcycles (voted by participants). Plus Best of Show,
Best Paint, Best Interior, Best Engine and Best Stereo/Sound
for cars/trucks and Best Paint and Best Chrome for motorcycles.
$5 of your registration fee goes into the 50/50 pot with your name!
Email: info@tonkawachamber.org
Website: http://www.tonkawachamber.org
Phone: 580.628.2220
Sept 6 Fifth Annual Sweet Rods & Rides Car & Bike Show 10am-4pm
Sugar Creek Casino, 5404 North Broadway I-40 Exit 101, Hinton, OK
Registration: 8am ; Entry Fee: FREE; Trophy Presentation: 4pm
Kids Inflatables, T-Shirts, Poker Walk, Door Prizes, Live Music, Food
Top Three in Over 15 Classes, plus Best of Show, and many specialty awards
Email: ewnts@sugarcreekcasino.net Website: http://www.sugarcreekcasino.net
Phone: 405 542 2946
Sept 6 Twelfth Annual Boggy Bottom Classic Car & Truck Show
Boggy Depot Park, 9 miles southwest of, Atoka, OK
(Hwy 75/69 south to West Boggy Depot Road, West to Boggy Depot Park;)
Registration: 8am-11am; Entry Fee: $20; Awards Ceremony: 3:30pm
Pre-registration until August 20; Dash Plaques for the first 100 entries;
Five Ball Participant Voting; Door Prizes, Oldies Music, Food, Craft Vendors; Over 40 classes for Top Three Trophies in each class. 16 Special Trophies. Benefits Toys for Tots and Relay for Life and other SE Charities.
Phone: George Hall 580 889 6065 or 580 889 1306 or Debbie 817 781 6449
Email: ggchall@yahoo.com
Sept 6, 35th Annual Bluegrass & Chili Festival Car Show
419 West Will Rogers Blvd, Claremore, OK
Registration: 9:30am-12noon; Entry Fee: $20 Awards: 4:45pm
There will be three trophies given in each of 50 categories. To insure fairness in judging all cars will be judged by the same group of judges. Registration will begin at 9:30 am through 12 pm noon. Door prizes will be given away every 15 minutes starting at 12:30 pm and ending at 4:30 pm with trophy presentations at 4:45 pm. Registration fee is $20 the day of the show or you may download the form I have attached and mail it and a check for $18 to the address on the form. Pre-registration ends August 21st. Mail: Bluegrass & Chili Festival, 419 W. Will Rogers Blvd., Claremore, OK 74017
We will be raffling off a gift certificate from David's Wheels and Tires worth $1000 toward wheels and tires as well as a chance to win a new flat screen TV. Proceeds from the show will be donated to Happy Hands Education Center. (Deals Children from birth to age 6 who are deaf or have hearing impairments.) Sponsored by the Tulsa Chevy Classics Club. Thank you for your support of this worthy cause.
If you have any questions you can contact: Gary Baergen 918-357-2104
Sept 6, 2nd Annual Route 66 Community Partners Poker Run 9am-5pm
We welcome all Cars, Trucks and Motorcycles
Exploring Oklahoma Heartland Entry Fee: $25 with T-Shirt
Start: KUSH Radio 3818 East Main Street, Cushing, OK 9am
Masonic Temple Lodge, 212 North Ohio, Drumright, OK Breakfast
Stop N Shop, 210 West 4th Avenue, Bristow, OK
Rock Café, 114 West Main Street, Stroud, OK
Randy Bowen Chevrolet, 1201 Manvel Avenue, Chandler, OK
Ioway Casino, 338445 East Hwy 66, Warwick, OK
Finish: Oklahoma Territorial Plaza, 750 North Main Street, Perkins, OK Total 89 miles
Last vehicle out by 11am all vehicles in by 3pm
Email: rt66communitypartners@gmail.com
Phone: Tim Shook 918 290 9821
Sept 6 Miami Elks Smokin' on Rt 66 Car, Truck and Motorcycle Show
Oklahoma Fairground, 1129 East Street SW, Miami, OK
Registration: 8am-12 noon Entry Fee: $10 Judging: 3pm
50/50 Pot, Raffle, DJ, Live Music, Great Food
Over ten classes with First Place Trophy in each class;
First 50 entries will receive a Dash Plaque
The Miami Elks Lodge #1320 is hosting a Car and Bike Show
in Miami, Oklahoma on September 6th. Family Fest and Smokin on Rt 66
BBQ Contest. All proceeds from this event will benefit the backpack program.
We have taken on Miami Head start and High school ensuring no child goes
hungry. We would like to have as many participants on our
first year as possible. Hopefully, this will be an annual event.
Email: Shelly Brewer shelly_brewer@rocketmail.com
Phone: Jerry 918 541 6745; Mike 918 533 2528
Sept 13 Kiley Kares Show & Shine 10am-3pm
Owasso Public Schools Transportation & Operations Parking Lot.
76th & Hwy 169 behind the Waffle House, Owasso, OK
Registration: 10am-12pm; Voting Closes 1pm; Awards: 2pm
Entry Fee: $25; Awards based on popular vote.
Kiley Kares is a non-profit organization that helps local teens and
Children with cancer or other life threatening Illnesses. We provide
"Hospital Survival Kits", "Treat Bags" and "Mini Vacations" to the
Families as money allows. Sponsored by Don's Truck & Auto, Inc.
Phone: 918 928 2332; Email: kileykares@gmail.com
Sept 13 City of Springs Car and Truck Show 9am-4pm
Downtown Main Street, Sulphur, OK; Entry Fee: $20
Over 30 classes for First and Second Place Trophies
First 75 entries receive a Dash Plaque and T-Shirt
Drawing for Grand Prize $1000, $500 Cash Drawing, $250 Cash Drawing
Cruise night Friday eve Sept 12 before the show with live rock music
and free food for the cruise. Super 8 Motel 580 622 6800
Lake Cabins 580 622 6125 or http://www.premierlakeproperty.com
Artesian Hotel and Spa 580 622 8100 http://www.artesianhotel.com
Email: Jeff Flowers flowersac@brightok.net Pone: 580 622 6387
Email: cityofspringscarshow@yahoo.com
Sept 13 Rods-N-Ribs Charity Car Show 10am-3pm
High Park, Derby, Kansas
Registration: 9am-11am Entry Fee: $20 + Canned Food Donation
Cars, Trucks, Motorcycles, Special Interest, Over 25 Classes,
Trophies, Special Awards, Dash Plaques, In conjunction with
Derby BBQ Festival. Benefitting the Kansas Food Bank and
Families of McConnell Air Force Base.
Contact Information: Stu Puls 316.858.8230 spuls@jawinc.com
Red Line Auto 316.776.9069 red-lineauto@att.net
Website: http://www.bumbertobumper.com
Sept 13 Twelfth Annual Gems Car and Truck Show 8am-3pm
Tyro Christian Church, Hwy 166, Tyro, Kansas; Entry Fee: FREE
Registration: 8am-11am; Awards Ceremony: 2-3pm
First 250 Get Picture Plaques; Pictures Will Begin: 8am
Tyro Christian School Concessions, Free Coffee Until 10am
Breakfast: 8am-10am Lunch: 11am-2pm
50's and 60's Music, Grand Drawing for Participants only -
350 CI V8 must be 16 or Older and must be present to win
Over 30 Classes for Trophies, Plus Special Trophies
100 Point Judging System; All Vehicles must be able to drive to show.
Phone: Wayne 620 515 1968 or Linda 620 515 2646
Tyro Christian Church 620 289 4433 Email: emoonjr@cox.net
Website: http://www.tyrochristian.org
September 19 – 21 Big Cruise and Car Show
Downtown on the Square, Alva, OK
Registration: Sept 19 5:45pm–8pm and Sept. 20 9am-12pm
Entry Fee: FREE
Times for Car Show: Sept 19 5:45pm - Sept 21 3pm
Mailing Address: R.A.C.E., PO Box 672, Alva OK 73717
Largest Free Show in Oklahoma: three day event features
a cookout, car cruise through downtown and burnout contests.
Email: cruiser@bigcruiseandcarshow.com
Website: http://www.bigcruiseandcarshow.com
Phone: 580-732-4786
Sept 20 Keystone VFD Car, Truck & Motorcycle Show 8am-3pm
Keystone State Park, Red Carpet Area, Hwy 151, Between Hwy 51/Hwy 64
Registration: 8am-12noon Entry Fee: $20
Mailing: Keystone VFD, 25505 W 41st Street, Sand Springs, OK 74063
Over twenty classes for trophies, Plus Special Awards, Swap Meet Spaces Available
Phone: Jan Boyd 918-855-1042 George Blackburn 918-605-4794
Chris Blackburn 918 899 4039
Email: kfdk18@gmail.com Jan Boyd
Sept 20 31st Annual Guthrie Oklahoma Road Celebration Open Car Show
901 South Division Street, Mineral Wells Park, Guthrie, OK
Registration: 8am-11am Trophy Presentation: 3pm
Pre-Registration: $15 if received by September 18; Day of Show: $20
There will also be several special trophies awarded for best paint, best interior, etc. Over $800 in cash prizes and lots of neat door prizes again this year! Send pre-registration information to: Guthrie Flashbacks, P.O. Box 473, Guthrie Oklahoma, 73044.
We will need your name, address, phone #, email address, Make, model, year of your vehicle and your club affiliation. FREE coffee and donuts. There will be music, 50/50 pot, crafts, food vendors and face painting. THERE WILL BE NO CHARGE FOR VENDOR SPACES! However, spaces will be allotted on a first-come, first-served basis and may be limited as to type.
Information: Grid @ (405) 282-6238 or Penny @ (405) 282-7343.
Like us on Facebook (Guthrie Flashbacks Car Club).
Sept 19-20 8th Annual Downtown Stillwater Car & Bike Show
Downtown, 7th - 10th Avenue, Stillwater, OK 10am-2pm
Registration: Pre-registration through Sept. 5; $15; Day of Show $20
Times for Car Show: Friday 6pm-9pm
Mailing: City of Stillwater (Attn: Amy Jo Frazier), PO Box 1449, Stillwater, OK 74076-1449
Cruise-In Friday from Visit Stillwater to Downtown Stillwater. Arrive by 5:30 pm, cruise at 6 pm
Email: downtown@stillwater.org Phone: (405) 742-8359
Website: http://www.downtownstw.com/car-show
Sept 20 Saturday Night Cruisers Classic Car Show 8am-2pm
Bible Baptist Church, 226 S. 29th Street, Chichasha, OK
Registration: 8am-11am; Entry Fee: $20
Classes for Cars, Trucks and Motorcycles. Two trophies per class
Proceeds go to American Cancer Society and Bible Baptist Children's Ministry
Door Prizes and 50/50 Pot; Phone: 405.517.9338
Website: http://www.carshow.saturdaynightcruisers.org
Sept 20 Fall Thunder Car Show 9am-3pm
Depot & Main Street, Ardmore, OK
Registration: 9-11am; Entry Fee: $20
Mailing: Fall Thunder Car Show, 1544 Mary Niblack, Ardmore,Ok 73401
Judged classes, club corral, 50/50, door prizes, special awards, quilt exhibit,
Ladies Tea with door prizes, DJ, street festival, food booths, art show, live
entertainment all day, children's area, lots more
Email: hotrods.trains@gmail.com Phone: 580-223-8302
Sept 20 CARE 2 CURE Car and Truck Show 10am-
920 S Sheridan Rd, Great Plains Coliseum Expo Building, Lawton, OK.
Registration: 8:30am-
Entry Fee: $20 Car Show or $25 FOR Show and Audio Contest
Mailing: Great Plains Coliseum, 920 S Sheridan Rd LAWTON OK. 73501
This is a indoor show $300.00 for best of show 1 Truck 1 Car $200.00 for Best Interior $200 for Best Paint this Show is a benefit for Hunting Disease. DJ, Door Prizes, RaJJ1eItems Vendors, Concession, 50/50 Pot; No Door Charge for Public RAIN OR SHINE
Email: sublow1@hotmail.com Phone: 580 351 7520 or 514-0847
Sept 20 GCCM 35th Annual Mustang and Ford Powered Round-Up
Downtown, Jenks, OK 8am-5pm
Registration: 8am-11am
Entry Fee: $25 before Sept. 1; Day of Show $30
Judging per MCA rules and classifications ---Best of Show, Chief of Police , Fire and Mayor Trophies.
Email: Macgron@aol.com Phone: 918-510-7612
Website: http://www.greencountryclassicmustangs.com
Sept 21 Sunday 11th Annual South Tulsa Baptist Church Car Show 4pm-6pm
South Tulsa Baptist Church, 10310 S Sheridan, Tulsa, OK
Entry Fee: FREE No Entry Fee! No judging, just a car show.
Last year 550 cars, antiques to fuel cars. Show cars will be parked beginning at 1 pm. If you wish to park together as a group or club please plan to meet off site and enter together. Free charcoaled hamburgers, hot dogs plus desserts. We are asking for a can
or two on non-perishable food,( peanut butter is always good), for our mission center if you would like to donate.(not required) Rain date is set for Sept. 28 if needed.
Contact: Jim Grisham j_grisham@sbcglobal.net
Phone: 918-808-8031
2014 Perkins Car Show Dash Plaque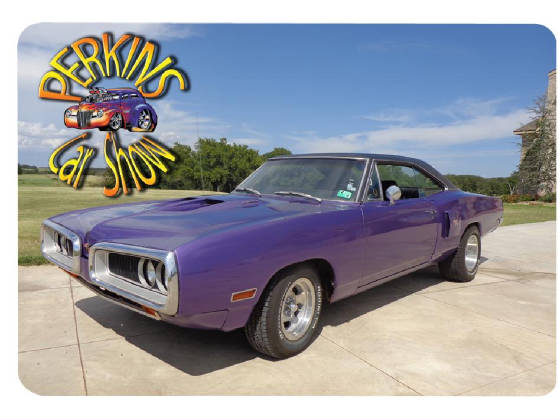 Sponsor CLS Plasticard Bixby and Perkins
September 27 Perkins Car Show
1003 East Hwy 33, Perkins-Tryon High School Perkins, OK
Registration: 8am to 11am Awards at 1pm
Pre-registration: $15 until Sept 20; Day of show $20
Last year's 50 / 50 Pot $1100, in the Rain!
Club Trophy and $100 for most entries!
$50, $25 for pre-registration drawing!
Over 40 Classes of Cars, Trucks, Motorcycles
Three Trophies per class plus 15 Sponsor's Choice Trophies and Best of Show! Awards Ceremony & 50/50 Drawing inside HS Commons Area; Inside air-conditioned concessions & restrooms;
Oldies Music by Dale Turner.
Information: Shelby Lauener at 405 612 7115: slauener@sbcglobal.net
John Dragoo at 405 547 5657 kajon@suddenlink.net
click to download Perkins Cars Show Entry
Sept 27 First Southern Baptist Church Car & Bike Show
First Southern Baptist Church, 6400 South Sooner Road, OKC, OK 8am-2pm
Registration: 8am-12noon
Entry Fee: $15 in advance: $20 day of event
Mailing: First Baptist Church, 6400 South Sooner Road, OKC, Ok
Free to public; Cars, Trucks and Motorcycles Welcome
Register @ http://www.firstsouthern.tv/carshow
Website: http://www.firstsouthern.tv/carshow
Phone: 405-732-1300
Sept 27 50s-60s Cruise Night McAlester 7pm
Choctaw Avenue, Downtown, McAlester, OK
Burnout Permit $25.00 Burnout starts: 8:30pm
Mailing: Cruise Night McAlester, PO Box 578, McAlester OK 74501
McAlester City Wide Yard Sale Sept 26-27.
All Things Auto Swap Meet Sept. 27 8am-2pm
Email: positivelymcalester@gmail.com
Website: Facebook Positively McAlester
Phone: 918-470-5349
Sept 27 Route 66 Cruisers Car Show 8am-4pm
Claremore Lake,1450 E. Blue Starr Dr., Claremore, OK
Directions to Claremore Lake: From downtown Claremore, go north on Lynn Riggs Blvd. (Hwy. 66) to Blue Starr Dr. and turn east 2 miles. Watch for signs.
Registration: 7am-11am; Entry Fee: $20; Awards Ceremony: 4pm.
Pre-register before Sept.15: $15 and be entered into a $50 drawing!
Three trophies per class with over 50 classes; Drawings will be held throughout the day for cash & giveaways prizes totaling over $1,000.
Claremore Lake is beautiful with plenty of shade trees, picnic tables, splash pad, and playground. $100 Cash Prizes awarded for Best Ford, GM, Mopar, Rat Rod, Best Paint, & Best of Show. $100 awarded for Distance. 50's & 60's Music!
Proceeds benefit the Sponsored Children of the Akdar Shrine
Website: http://www.route66cruisersok.org/route66carshow.htm
October 2014
October 4 Mounds 11th Annual Car Show 8am-3pm
Wonderful Downtown Main Street, Hwy 75A, Mounds, OK
Registration: 8am-10am
Entry Fee: Pre-registration $13; Day of Show $20.00
$3.00 off with two or more non-perishable food items
Mailing Address: Mounds Car Show, P.O. Box 258, Mounds, OK 74047
We will have Vendors on main street, DJ with oldies music.
This show is Rain or Shine. Mounds Car Show benefits
Community Angel Tree and Food Bank
Email: checufe@yahoo.com Phone: Myra 918-346-5867
Website for Car Show: https://www.facebook.com/groups/376044460827/
Oct 4 Annual Walters Car Cruz
Chamber of Commerce Office, 116 N. Broadway, Walters, OK
Registration: 8am-10am;p Awards Ceremony: 3pm
Our theme this year is "Surfs Up" at the Walters Annual Car Cruz. There will be many changes this year besides the Car Show, Cruz and Burnout. The car show is being held up and down Broadway. Registration will be at (inside the Chamber of Commerce Office). Judging of all classes will start at 11:00 am. Car Show Awards and drawings for cash for Car Entrants will be presented at 3:00 p.m. in front of the Bandstand. 1st and 2nd place winners in all classes will receive a trophy and Best of Show will receive a trophy and $800.00. All car show entrants will be eligible for four $200.00 drawings each. The first 100 entries for the car show will receive a dash plate, magnet and decal. 1st place of the burnout will receive $150.00 a trophy and set of Goodyear Tires, 2nd place will receive a trophy and $150.00, Best of Show will receive a trophy and $200.00 and Crowd Pleaser will receive $100.00 and a trophy. The Car and Motorcycle Cruz will begin at 1 pm through midnight. The Cruz will shut down for the Burnout Contest at 6:00 p.m. Awards for the Burn Out, Indian Taco Winners and crowing of the Car Cruz Princess, Car Cruz Queen and drawing for the television, Thunder Gift Basket and $500.00 cash will be immediately following the Burnout. The Car Cruz Committee will provide their own security and safety. Phone: Wes Eidson at 580-695-1350.
Oct 11 Drive'em or Drag'em Car Show 9am-2pm
River City Park, Sand Springs, OK
Registration: Must be registered by 8:30am
Entry Fee: $20 (includes T-Shirt)
All shapes and Sizes, Any condition from projects
to restored. Come join us for lots of activities at the
Chillin & Grillin BBQ Cookoff for the whole family.
The football game will be showing on the outdoor TV!
Phones: Chad Fleming 918.906.4003 or Christina Citty 918.299 2656
Oct 11 Annual Bristow Route 66 Car, Truck, Bike & Tractor Show
Downtown, Route 66, Bristow, OK; Show Time: 8am-4pm
Entry Fee: $25; Pre-registration: $20 until Oct 1;
Mailing: Bristow Car Show, Post Office Box 127, Bristow, OK 74010
Features a variety of vintage rides, muscle cars, trucks, tractors, and tricked out motorcycles along the famed Mother Road. Over thirty classes for trophies. Poker Run Oct 10, 6pm at Community Bank; Make your way to Bristow on Saturday for this exciting car show. Nostalgic 1950s music will be played all day, and '50s costumes are always recommended and encouraged. Prizes for the best dressed and best decorated vendor will be awarded. This must-see show, with entries expected to top 300, will feature a 50/50 pot, live entertainment, Food Vendors, tricycle races, a swap meet and trophies for the winners. Phone: Chamber of Commerce 918-367-5151
Website: http://bristowchamber.com/about-us/route-66-bristow-car-show/
Oct 16-17-18 46th Annual Largest Auto Swap Meet in OK-Chickasha Swap Meet
712 E Choctaw Avenue, Chickasha, OK 7:30am
Thursday-Friday-Saturday-AUTO SWAP MEET
Mail: Chickasha Auto Swap Meet, PO Box 271 Chickasha OK 73023
Chickasha Antique Auto Club holds two swap meets a year. The Fall meet is the largest in Oklahoma. Our usual attendance is over 20,000 per day (mol) The meet is held on 40 acres at 712 E Choctaw, Chickasha Oklahoma. Anything auto related can be found for all makes and models. Many parts and accessories for classics - antiques - street rods - muscle cars - and special interests. Free parts hauling and meals available on grounds. Admission is free. Parking $4 - which benefits a local youth group and the Resurrection House. All spaces 10 x 30 *R*A*I*N OR *S*H*I*N*E*
405-224-OKLA (6552) office 10a-3p M-W-F ***DO NOT CALL OFFICE WEEK OF MEET-- WE ARE AT THE SWAP MEET GROUNDS*** find us on facebook under Chickasha Swap Meet or Chickasha Antique Auto Club or on line at www.chickashaautoswapmeet.com
Email: chickashaauto@sbcglobal.net Phone: 405-224-6552
Oct 18 Street Kings End of Summer Car Show and Cookout
The Beacon Drive-In, 2404 South Division, Guthrie, OK
FREE Gates open at 6pm Double Feature Movies start at dusk
"Return to Macon County" & "Thunder Road"
Bring your Hot Rod, Grill and Fixins for the Tailgate Party
Hosted by the "Street Kings Motor Club"
Mail: Street Kings Okla, 4514 S Division, Guthrie, Ok 73044
Information: Martin Blaney 405 795 9397
Website: http://www.streetkingsokla.com
Email: martin@streetkingsokla.com
Oct 18 Medicine Park 7th Annual Street Rod, Muscle Car & Classic Car Show
143 E. Lake Drive, Downtown, Medicine Park, OK; 12pm-5pm
Registration: 7am-12:30pm Entry Fee: $30.00
Mailing: The Old Plantation Restaurant, 143 E. Lake Drive, Medicine Park, Ok 73557
$2500 in cash prizes given away, $600 Best of Show Truck, $600 Best of Show Car,
Cash Prizes for First in all classes
Email: theoldplantation@yahoo.com
Website: http://www.theoldplantationrestaurant.com
Phone: 580-529-6262
Oct 23-24-25 NORMAN SWAP MEET
615 East Robinson, Cleveland County Fairgrounds, Norman, OK
Pre-Registration: just call or 7:30am Thursday
Entry Fee: Free Admission; Times: Rain of Shine 8am-6pm
Mailing Address: NORMAN SWAP MEET, PO Box 996. Norman, OK 73070
The twice annual All Transportation Swap Meet! The 3rd weekend in March or the 4th weekend in October. Sell your old Race car parts! That unfinished scooter project! Sell your old truck! Join the fun! At the Norman Swap Meet you can buy and sell Rat Rods, Cars, Trucks, and Parts, Street Rods, Memorabilia, Imports, Kit Cars, Sports cars, Boats, Bikes, Scooters, Model As, Race Cars, Hot Rods, Aircraft, Hang Gliders, Hovercraft, and Kit Cars! Rain or Shine, Inside and Outside Vender booths Our Public Guests are welcome from 8am-6pm Thursday through Saturday! Also a centrally located Auto, Truck, Bike and Boat, For Sale Area Held at the Cleveland County Fairgrounds in Norman Oklahoma 615 E. Robinson 73071. Free Admission, Indoor and Outdoor Vender Spaces! Phone: 405-651-7927
Email: NormanSwapMeet@aol.com Website: www.NormanSwapMeet.com
Oct 25 Wewoka Sorghum Day Car Show 8am - 3pm
Main Street, Wewoka, OK
Registration: 8am - 11am
Entry Fee: $20 or $15 pre-entry
Mailing: Wewoka Sorghum Day Car Show, PO Box 719, Wewoka, OK 74884
Downtown Wewoka on main street. Fun for everyone. Over 20,000 attend this town Festival every year that also includes over 100 vendors featuring: food, music, arts, crafts, photography and Native American exhibits. Making of homemade sorghum on the Seminole Nation Museum Grounds.
Awards include plaques for: Top 10 Stock Cars, Top 15 Modified Cars, Top 5 Stock Trucks, Top 5 Modified Trucks, Best Vintage, Best Classic, Best Custom, Best Paint, Best Interior and Best of Show. Free T-Shirt for first 50 entries. T-Shirts are available for sale featuring the prior two years best of show vehicles as the feature vehicles on the shirt. Door Prize drawings during the day that include Cash and Prizes.
Email: lcjohnson2@hotmail.com Phone: 405-380-6600
November 2014
Nov 8 Kool Cars in Kingfisher
Downtown Kingfisher - 7th Street, Kingfisher, OK
(New Location One Bock west of Main Street)
Registration 9am - 1am; Awards: 2:30 pm; Entry Fee: $20
Sponsored by the Kingfisher Chamber of Commerce
Shine up your classic cars and trucks and come to downtown Kool Cars in Kingfisher for the annual car show. Admire row after row of hot rods, modified cars and trucks, muscle cars, original cars and trucks and more while enjoying live music and concession items. Food, Door Prizes, 50's & 60's Music, 50/50 Pot, Dash Plaques to the first 100 entries. Five Ball Voting for trophies in 35 Classes of Cars, Trucks and Tractors plus Best Paint, Best Engine, Best Interior and Best of Show
Phone: 405 375 4445 Fax: 405 375 5304
Website: http://www.kingfisher.org
Email: secretary@pldi.net or chamber@pldi.net